Exhibit 99.2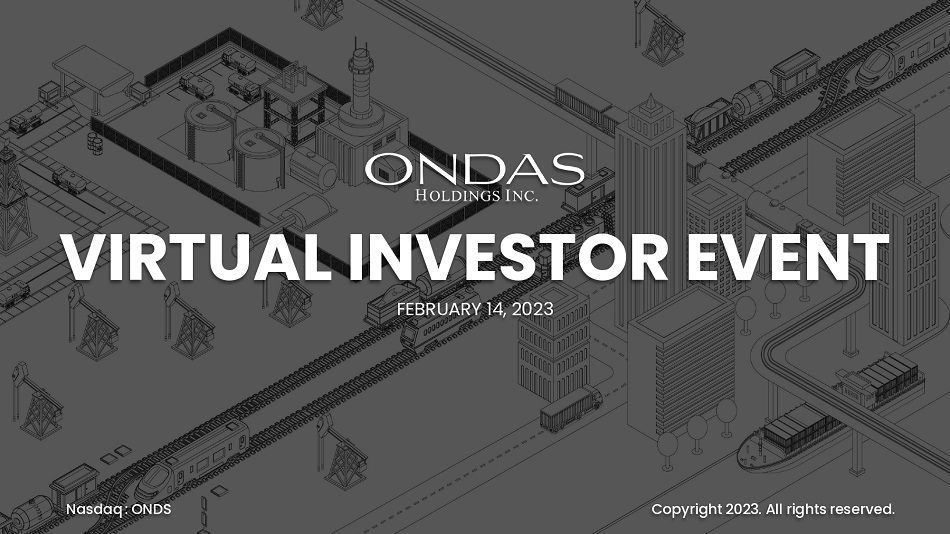 Copyright 2023. All rights reserved. Nasdaq : ONDS VIRTUAL INVESTOR EVENT FEBRUARY 14, 2023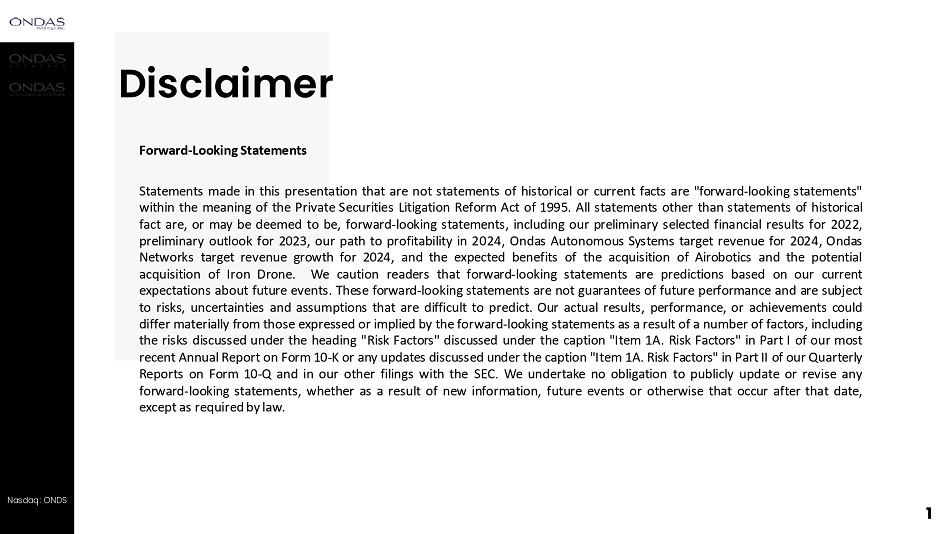 Forward - Looking Statements Statements made in this presentation that are not statements of historical or current facts are "forward - looking statements" within the meaning of the Private Securities Litigation Reform Act of 1995 . All statements other than statements of historical fact are, or may be deemed to be, forward - looking statements, including our preliminary selected financial results for 2022 , preliminary outlook for 2023 , our path to profitability in 2024 , Ondas Autonomous Systems target revenue for 2024 , Ondas Networks target revenue growth for 2024 , and the expected benefits of the acquisition of Airobotics and the potential acquisition of Iron Drone . We caution readers that forward - looking statements are predictions based on our current expectations about future events . These forward - looking statements are not guarantees of future performance and are subject to risks, uncertainties and assumptions that are difficult to predict . Our actual results, performance, or achievements could differ materially from those expressed or implied by the forward - looking statements as a result of a number of factors, including the risks discussed under the heading "Risk Factors" discussed under the caption "Item 1 A . Risk Factors" in Part I of our most recent Annual Report on Form 10 - K or any updates discussed under the caption "Item 1 A . Risk Factors" in Part II of our Quarterly Reports on Form 10 - Q and in our other filings with the SEC . We undertake no obligation to publicly update or revise any forward - looking statements, whether as a result of new information, future events or otherwise that occur after that date, except as required by law . Nasdaq : ONDS 1 Disclaimer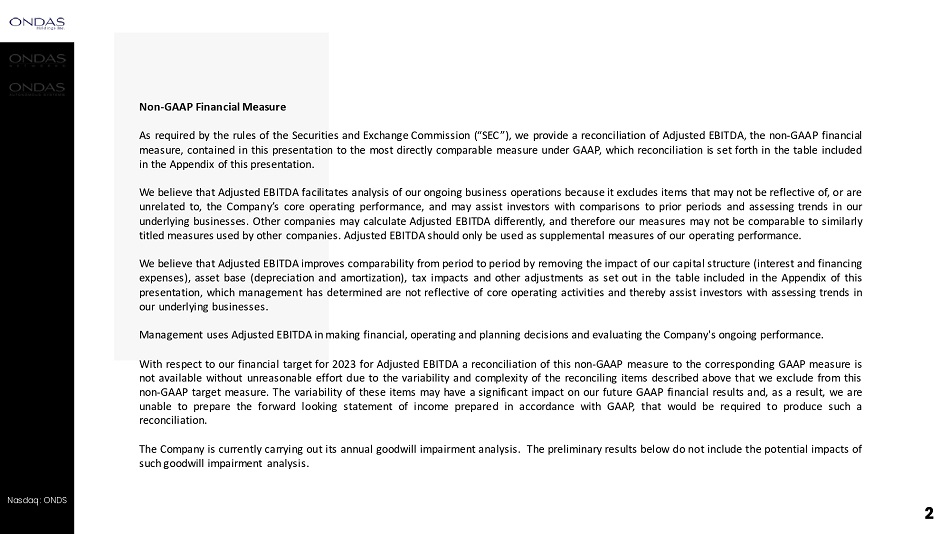 Non - GAAP Financial Measure As required by the rules of the Securities and Exchange Commission ("SEC"), we provide a reconciliation of Adjusted EBITDA, the non - GAAP financial measure, contained in this presentation to the most directly comparable measure under GAAP, which reconciliation is set forth in the table included in the Appendix of this presentation . We believe that Adjusted EBITDA facilitates analysis of our ongoing business operations because it excludes items that may not be reflective of, or are unrelated to, the Company's core operating performance, and may assist investors with comparisons to prior periods and assessing trends in our underlying businesses . Other companies may calculate Adjusted EBITDA differently, and therefore our measures may not be comparable to similarly titled measures used by other companies . Adjusted EBITDA should only be used as supplemental measures of our operating performance . We believe that Adjusted EBITDA improves comparability from period to period by removing the impact of our capital structure (interest and financing expenses), asset base (depreciation and amortization), tax impacts and other adjustments as set out in the table included in the Appendix of this presentation, which management has determined are not reflective of core operating activities and thereby assist investors with assessing trends in our underlying businesses . Management uses Adjusted EBITDA in making financial, operating and planning decisions and evaluating the Company's ongoing performance . With respect to our financial target for 2023 for Adjusted EBITDA a reconciliation of this non - GAAP measure to the corresponding GAAP measure is not available without unreasonable effort due to the variability and complexity of the reconciling items described above that we exclude from this non - GAAP target measure . The variability of these items may have a significant impact on our future GAAP financial results and, as a result, we are unable to prepare the forward looking statement of income prepared in accordance with GAAP, that would be required to produce such a reconciliation . The Company is currently carrying out its annual goodwill impairment analysis . The preliminary results below do not include the potential impacts of such goodwill impairment analysis . Nasdaq : ONDS 2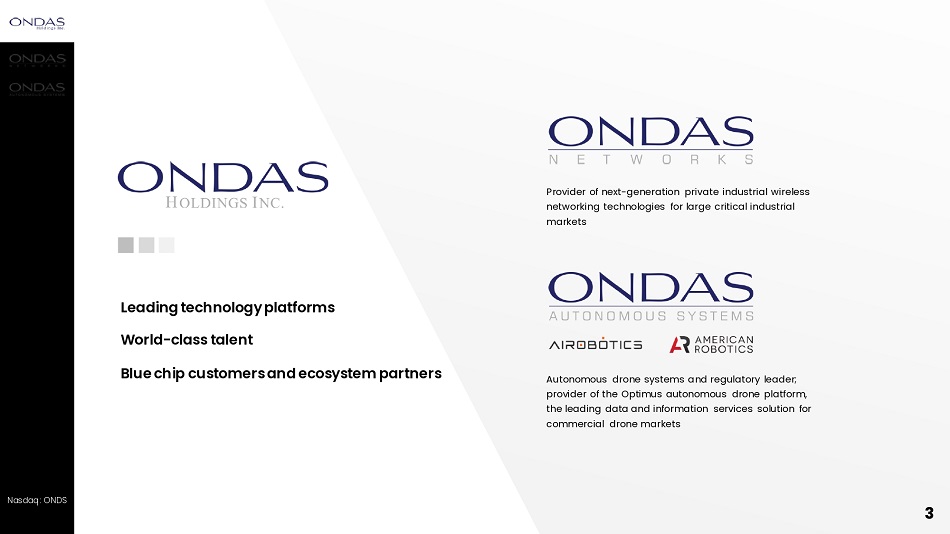 Provider of next - generation private industrial wireless networking technologies for large critical industrial markets Autonomous drone systems and regulatory leader; provider of the Optimus autonomous drone platform, the leading data and information services solution for commercial drone markets Leading technology platforms World - class talent Nasdaq : ONDS 3 Blue chip customers and ecosystem partners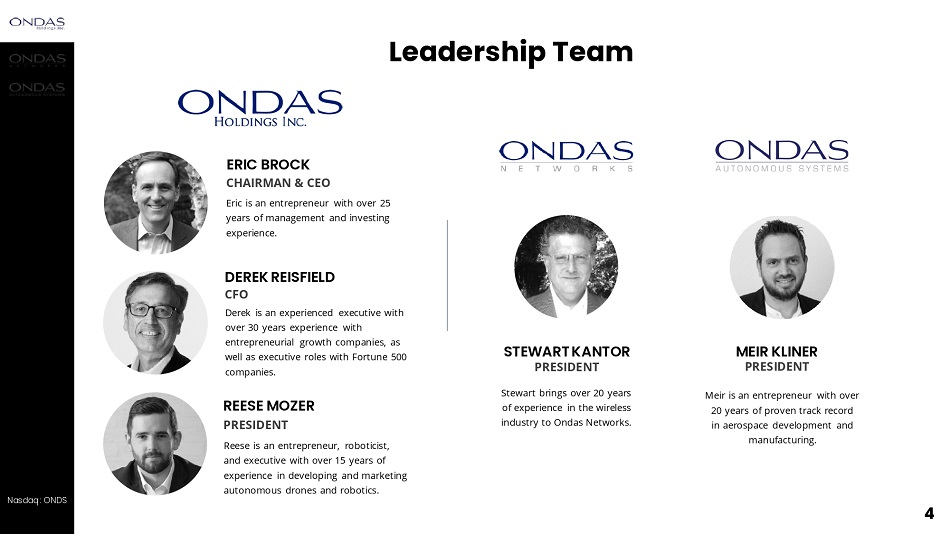 STEWART KANTOR PRESIDENT Stewart brings over 20 years of experience in the wireless industry to Ondas Networks . ERIC BROCK CHAIRMAN & CEO Eric is an entrepreneur with over 25 years of management and investing experience . DEREK REISFIELD CFO Derek is an experienced executive with over 30 years experience with entrepreneurial growth companies, as well as executive roles with Fortune 500 companies. REESE MOZER PRESIDENT Reese is an entrepreneur, roboticist, and executive with over 15 years of experience in developing and marketing autonomous drones and robotics. MEIR KLINER PRESIDENT Meir is an entrepreneur with over 20 years of proven track record in aerospace development and manufacturing. Leadership Team Nasdaq : ONDS 4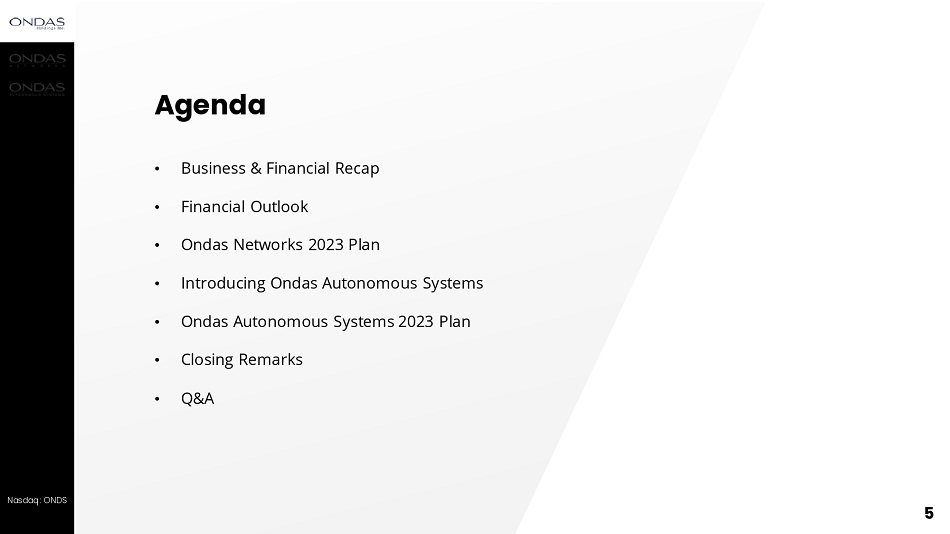 • Business & Financial Recap • Financial Outlook • Ondas Networks 2023 Plan • Introducing Ondas Autonomous Systems • Ondas Autonomous Systems 2023 Plan • Closing Remarks • Q&A Nasdaq : ONDS 5 Agenda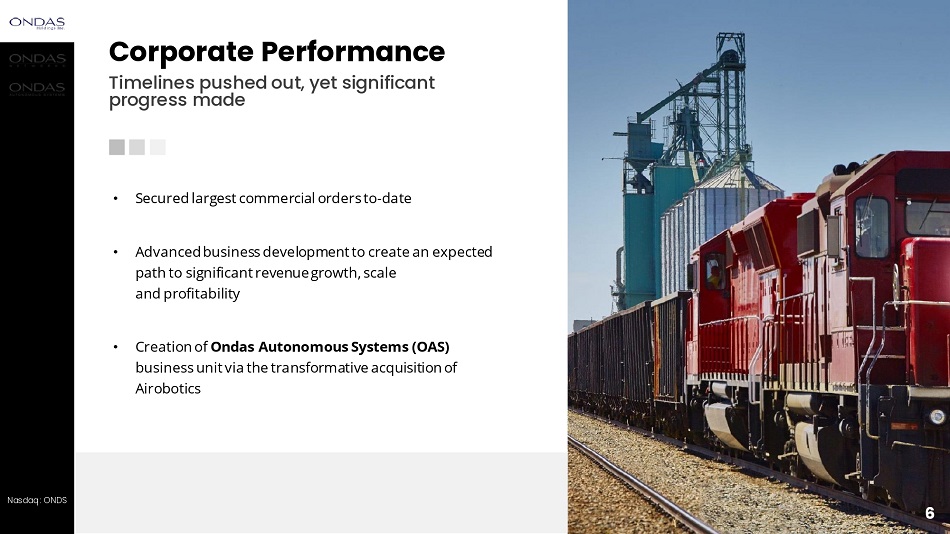 Timelines pushed out, yet significant progress made Corporate Performance • Secured largest commercial orders to - date • Advanced business development to create an expected path to significant revenue growth, scale and profitability • Creation of Ondas Autonomous Systems (OAS) business unit via the transformative acquisition of Airobotics 6 Nasdaq : ONDS 6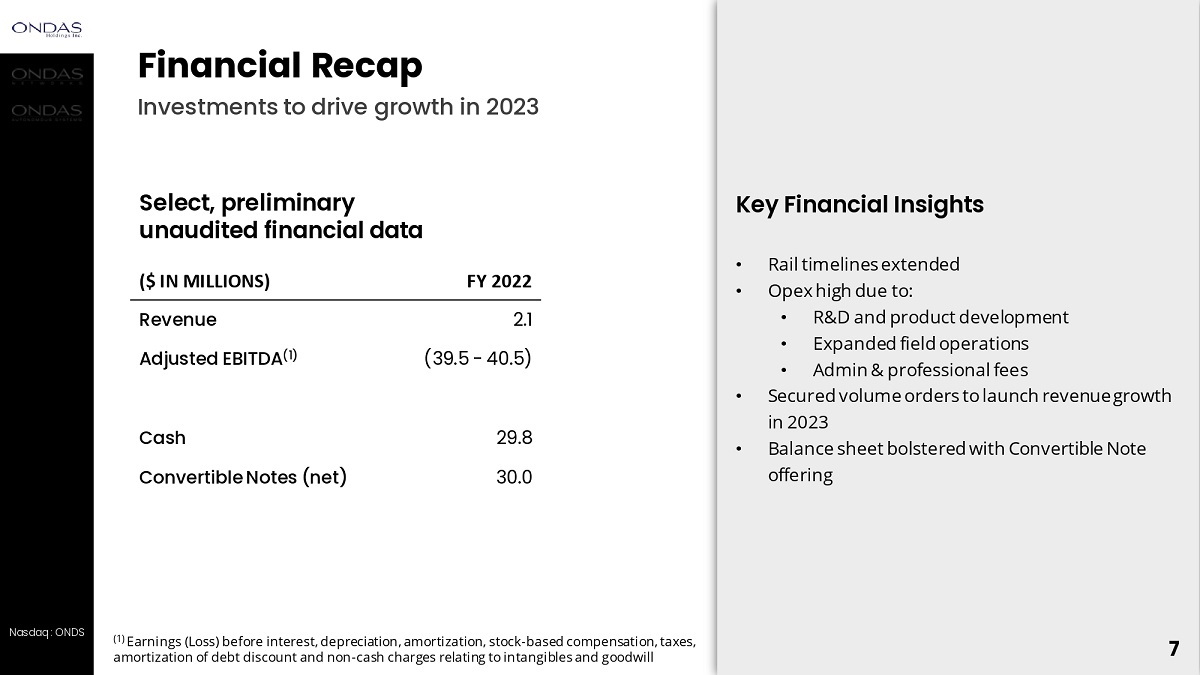 Nasdaq : ONDS 7 Financial Recap Investments to drive growth in 2023 Select, preliminary unaudited financial data ($ IN MILLIONS) FY 2022 Revenue 2.1 Adjusted EBITDA (1) (39.5 - 40.5) Cash 29.8 Convertible Notes (net) 30.0 Key Financial Insights • Rail timelines extended • Opex high due to: • R&D and product development • Expanded field operations • Admin & professional fees • Secured volume orders to launch revenue growth in 2023 • Balance sheet bolstered with Convertible Note offering (1) Earnings (Loss) before interest, depreciation, amortization, stock - based compensation, taxes, amortization of debt discount and non - cash charges relating to intangibles and goodwill 7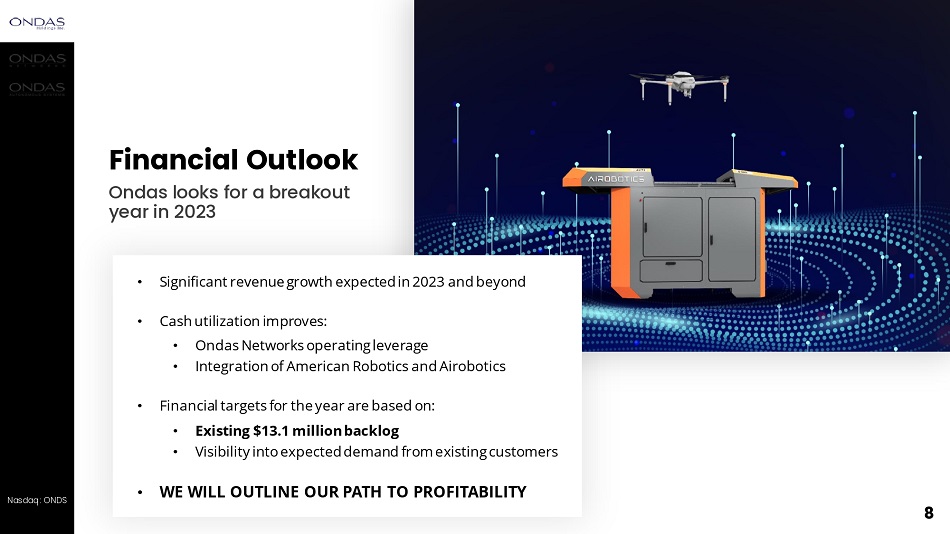 Nasdaq : ONDS 8 Ondas looks for a breakout year in 2023 Financial Outlook • Significant revenue growth expected in 2023 and beyond • Cash utilization improves: • Ondas Networks operating leverage • Integration of American Robotics and Airobotics • Financial targets for the year are based on: • Existing $13.1 million backlog • Visibility into expected demand from existing customers • WE WILL OUTLINE OUR PATH TO PROFITABILITY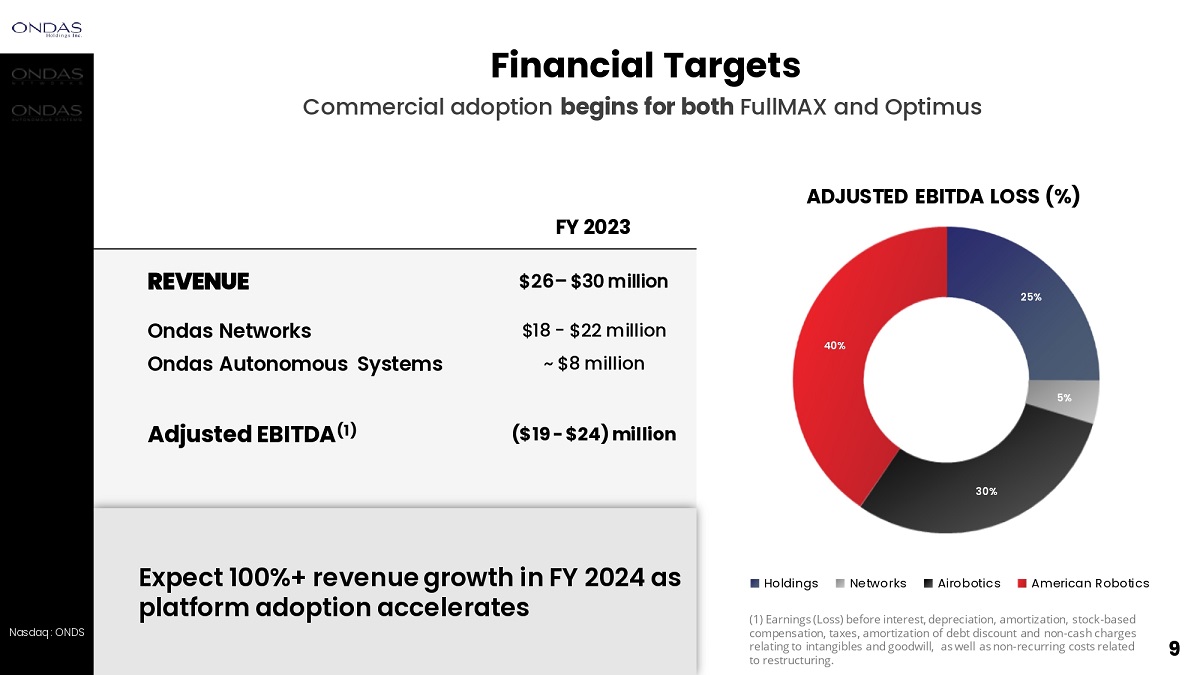 Nasdaq : ONDS 9 Financial Targets Commercial adoption begins for both FullMAX and Optimus ADJUSTED EBITDA LOSS (%) 25% 5% 30% 40% Expect 100%+ revenue growth in FY 2024 as platform adoption accelerates FY 2023 $26 – $30 million REVENUE Ondas Networks Ondas Autonomous Systems $18 - $22 million ~ $8 million Adjusted EBITDA (1) ($19 - $24) million Holdings Networks Airobotics American Robotics ( 1 ) Earnings (Loss) before interest, depreciation, amortization, stock - based compensation, taxes, amortization of debt discount and non - cash charges relating to intangibles and goodwill, as well as non - recurring costs related to restructuring . 9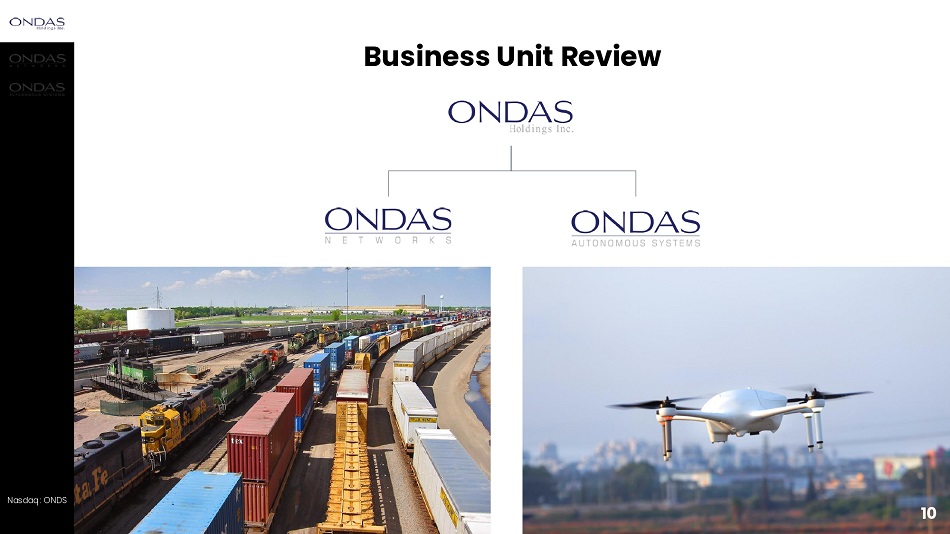 Business Unit Review 10 Nasdaq : ONDS 10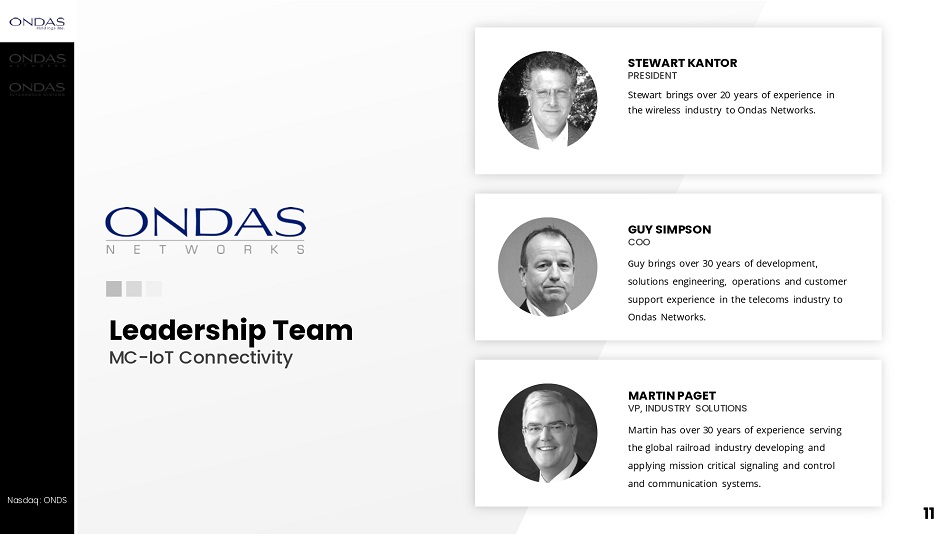 STEWART KANTOR PRESIDENT Stewart brings over 20 years of experience in the wireless industry to Ondas Networks. GUY SIMPSON COO G uy brings over 30 years of development, solutions engineering, operations and customer support experience in the telecoms industry to Ondas Networks. MARTIN PAGET VP, INDUSTRY SOLUTIONS Martin has over 30 years of experience serving the global railroad industry developing and applying mission critical signaling and control and communication systems. Leadership Team MC - IoT Connectivity Nasdaq : ONDS 11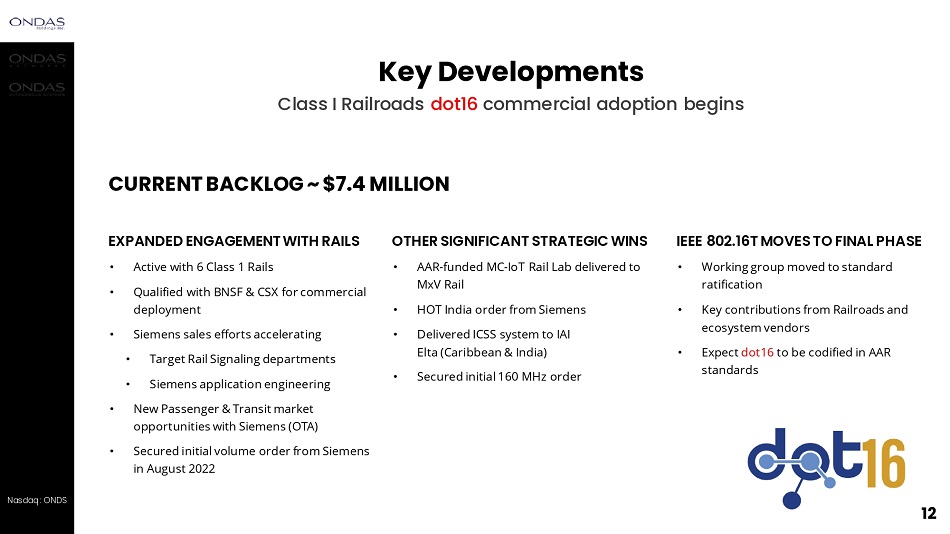 Key Developments Class I Railroads dot16 commercial adoption begins EXPANDED ENGAGEMENT WITH RAILS • Active with 6 Class 1 Rails • Qualified with BNSF & CSX for commercial deployment • Siemens sales efforts accelerating • Target Rail Signaling departments • Siemens application engineering • New Passenger & Transit market opportunities with Siemens (OTA) • Secured initial volume order from Siemens in August 2022 OTHER SIGNIFICANT STRATEGIC WINS • AAR - funded MC - IoT Rail Lab delivered to MxV Rail • HOT India order from Siemens • Delivered ICSS system to IAI Elta (Caribbean & India) • Secured initial 160 MHz order IEEE 802.16T MOVES TO FINAL PHASE • Working group moved to standard ratification • Key contributions from Railroads and ecosystem vendors • Expect dot16 to be codified in AAR standards CURRENT BACKLOG ~ $7.4 MILLION Nasdaq : ONDS 12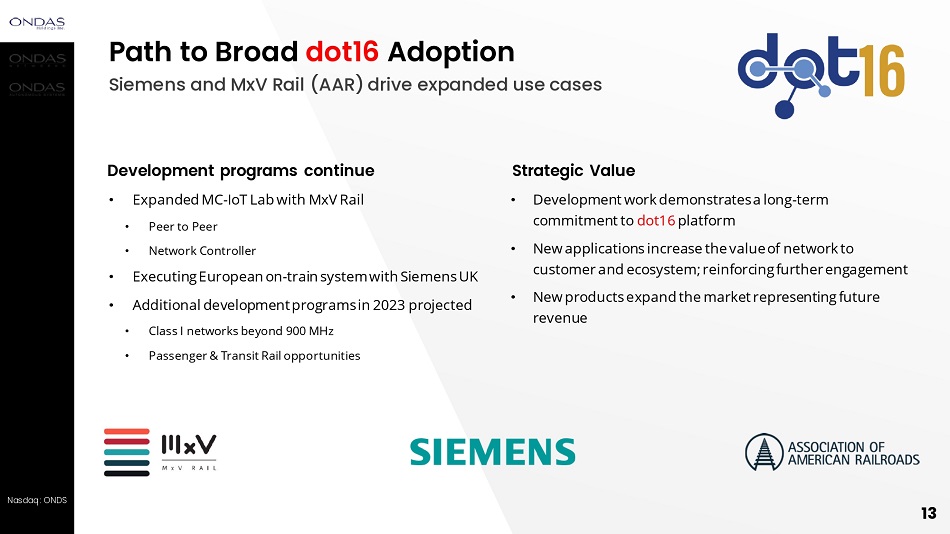 Path to Broad dot16 Adoption Siemens and MxV Rail (AAR) drive expanded use cases Development programs continue • Expanded MC - IoT Lab with MxV Rail • Peer to Peer • Network Controller • Executing European on - train system with Siemens UK • Additional development programs in 2023 projected • Class I networks beyond 900 MHz • Passenger & Transit Rail opportunities Strategic Value • Development work demonstrates a long - term commitment to dot16 platform • New applications increase the value of network to customer and ecosystem; reinforcing further engagement • New products expand the market representing future revenue Nasdaq : ONDS 13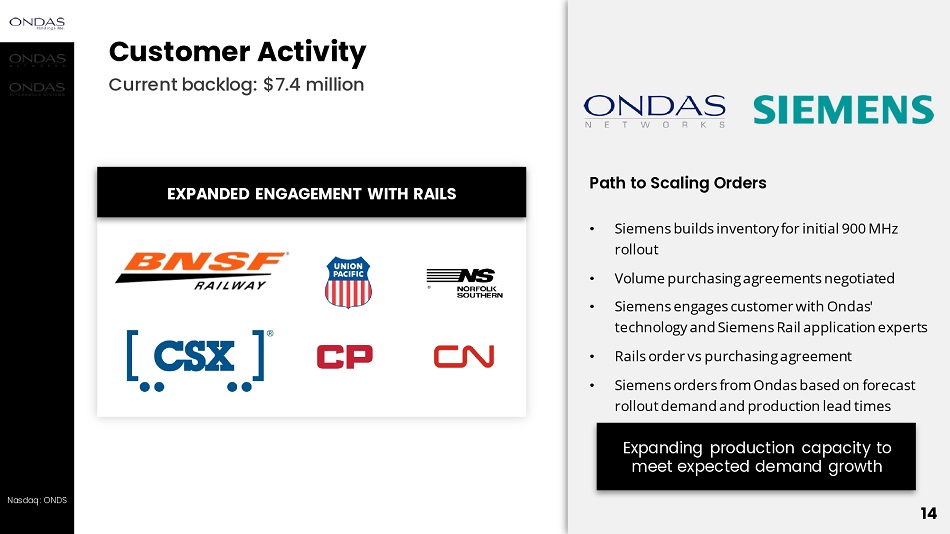 Customer Activity Current backlog: $7.4 million Path to Scaling Orders • Siemens builds inventory for initial 900 MHz rollout • Volume purchasing agreements negotiated • Siemens engages customer with Ondas' technology and Siemens Rail application experts • Rails order vs purchasing agreement • Siemens orders from Ondas based on forecast rollout demand and production lead times EXPANDED ENGAGEMENT WITH RAILS Expanding production capacity to meet expected demand growth 14 Nasdaq : ONDS 14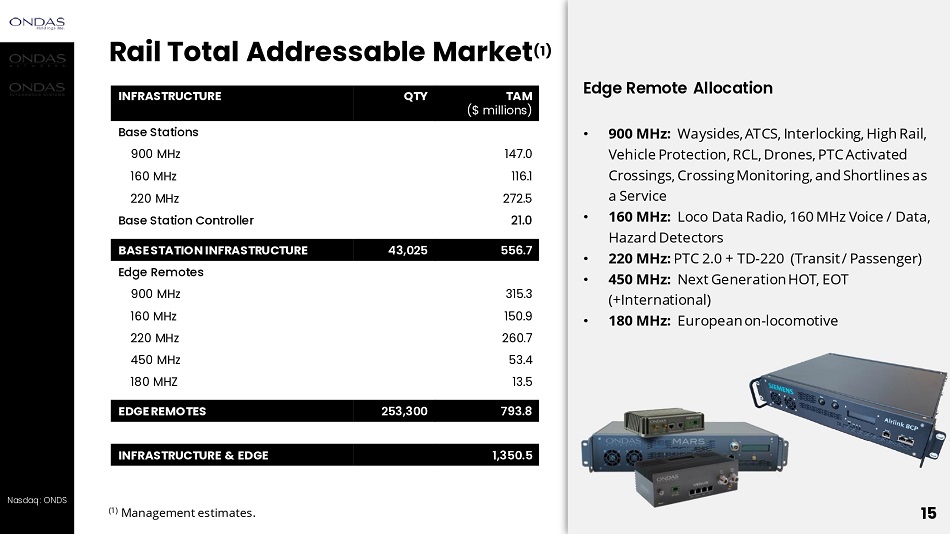 Rail Total Addressable Market (1) Edge Remote Allocation • 900 MHz: Waysides, ATCS, Interlocking, High Rail, Vehicle Protection, RCL, Drones, PTC Activated Crossings, Crossing Monitoring, and Shortlines as a Service • 160 MHz: Loco Data Radio, 160 MHz Voice / Data, Hazard Detectors • 220 MHz: PTC 2.0 + TD - 220 (Transit / Passenger) • 450 MHz: Next Generation HOT, EOT (+International) • 180 MHz: European on - locomotive INFRASTRUCTURE QTY TAM ($ millions) Base Stations 900 MHz 147.0 160 MHz 116.1 220 MHz 272.5 Base Station Controller 21.0 BASE STATION INFRASTRUCTURE 43,025 556.7 Edge Remotes 900 MHz 315.3 160 MHz 150.9 220 MHz 260.7 450 MHz 53.4 180 MHZ 13.5 EDGE REMOTES 253,300 793.8 INFRASTRUCTURE & EDGE 1,350.5 15 Nasdaq : ONDS 15 (1) Management estimates.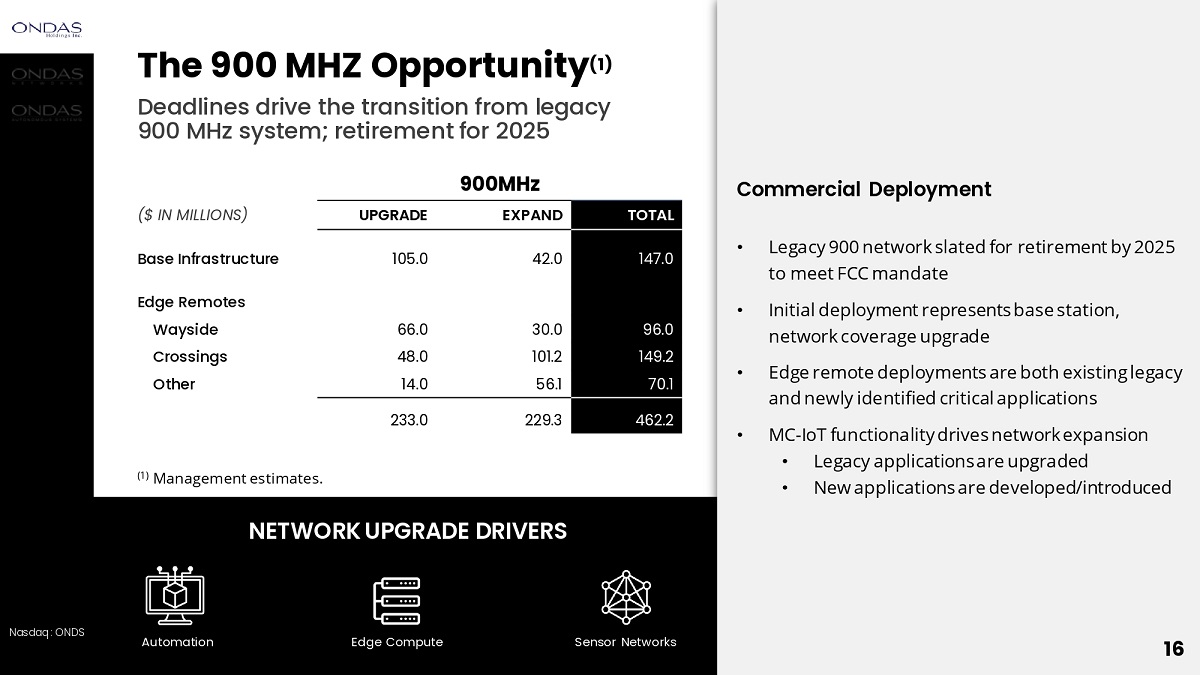 Nasdaq : ONDS 16 Commercial Deployment • Legacy 900 network slated for retirement by 2025 to meet FCC mandate • Initial deployment represents base station, network coverage upgrade • Edge remote deployments are both existing legacy and newly identified critical applications • MC - IoT functionality drives network expansion • Legacy applications are upgraded • New applications are developed/introduced Deadlines drive the transition from legacy 900 MHz system; retirement for 2025 The 900 MHZ Opportunity (1) NETWORK UPGRADE DRIVERS 900MHz ($ IN MILLIONS) UPGRADE EXPAND TOTAL Base Infrastructure 105.0 42.0 147.0 Edge Remotes Wayside 66.0 30.0 96.0 Crossings 48.0 101.2 149.2 Other 14.0 56.1 70.1 233.0 229.3 462.2 Automation Edge Compute Sensor Networks (1) Management estimates. 16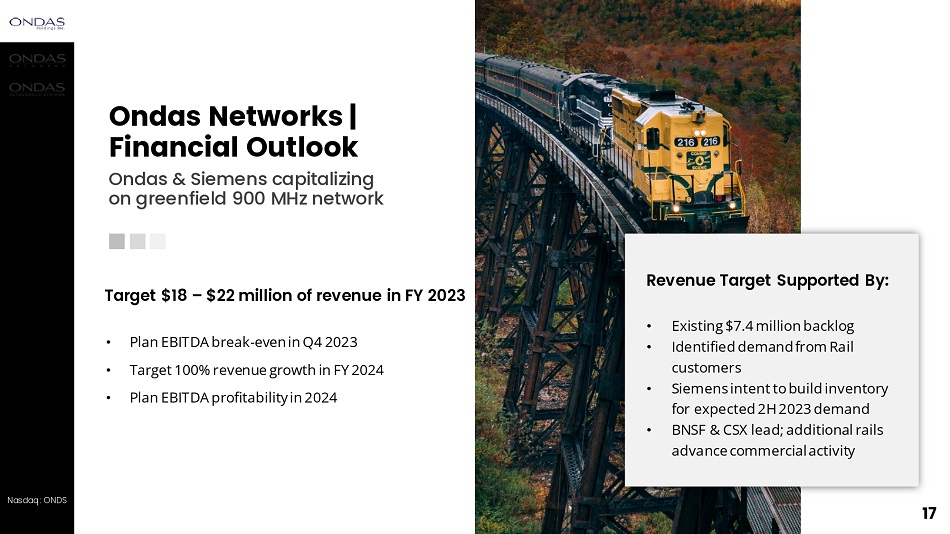 Nasdaq : ONDS 17 Revenue Target Supported By: • Existing $7.4 million backlog • Identified demand from Rail customers • Siemens intent to build inventory for expected 2H 2023 demand • BNSF & CSX lead; additional rails advance commercial activity Ondas & Siemens capitalizing on greenfield 900 MHz network Ondas Networks | Financial Outlook Target $18 – $22 million of revenue in FY 2023 • Plan EBITDA break - even in Q4 2023 • Target 100% revenue growth in FY 2024 • Plan EBITDA profitability in 2024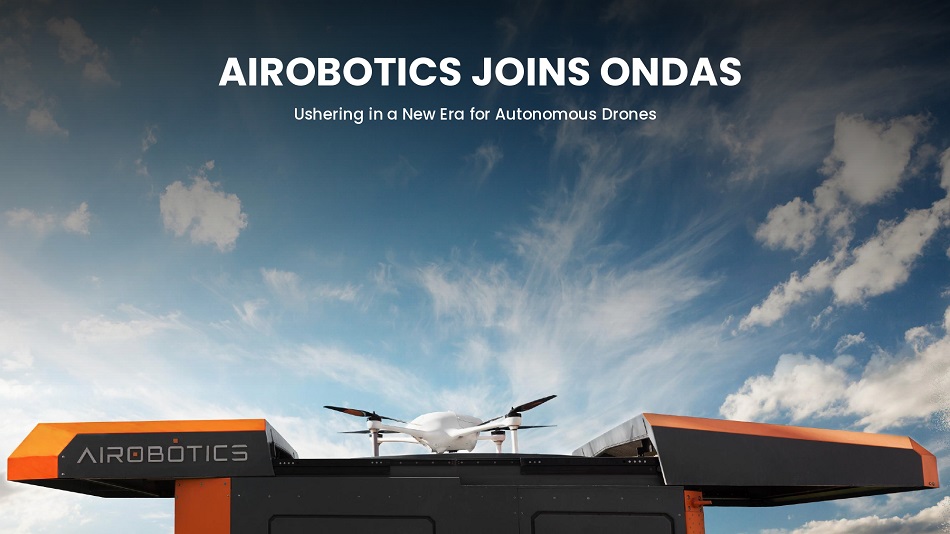 AIROBOTICS JOINS ONDAS Ushering in a New Era for Autonomous Drones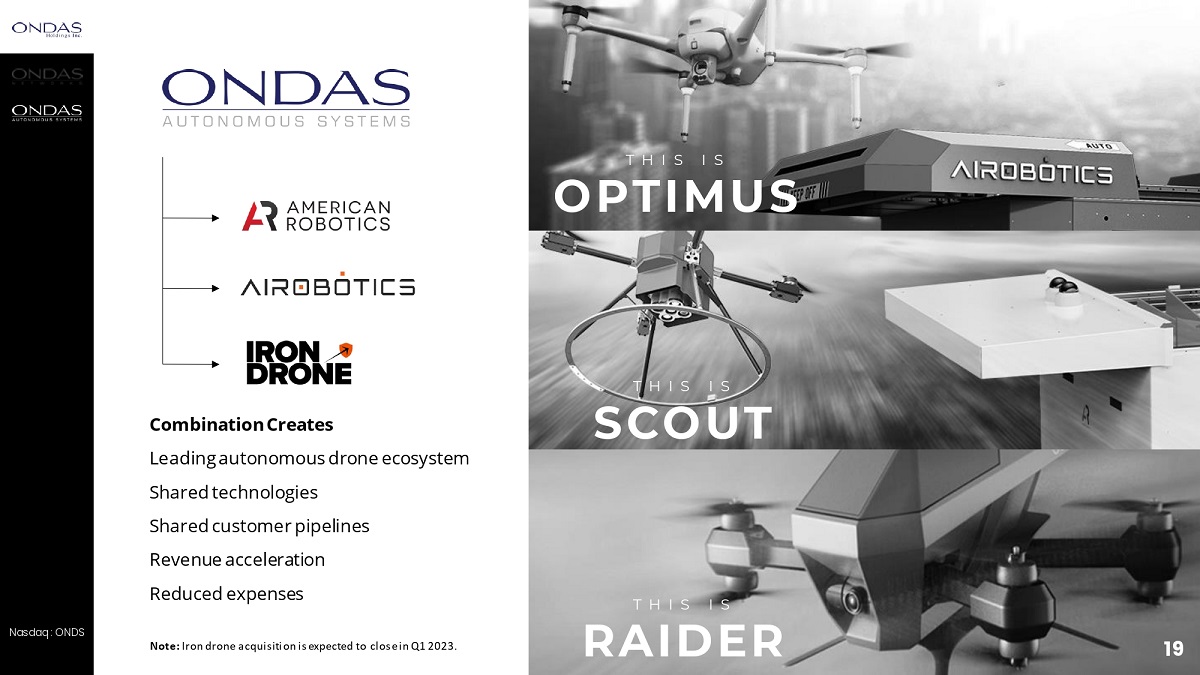 Nasdaq : ONDS 19 Combination Creates Leading autonomous drone ecosystem Shared technologies Shared customer pipelines Revenue acceleration Reduced expenses T H I S I S RAIDER T H I S I S SCOUT T H I S I S OPTIMUS Note: Iron drone acquisition is expected to close in Q1 2023. 19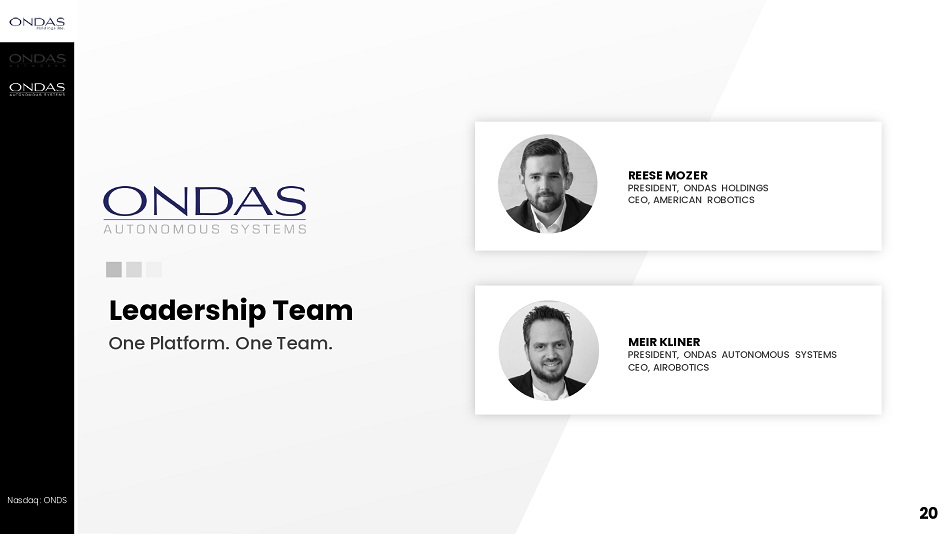 Leadership Team One Platform. One Team. REESE MOZER PRESIDENT, ONDAS HOLDINGS CEO, AMERICAN ROBOTICS MEIR KLINER PRESIDENT, ONDAS AUTONOMOUS SYSTEMS CEO, AIROBOTICS Nasdaq : ONDS 20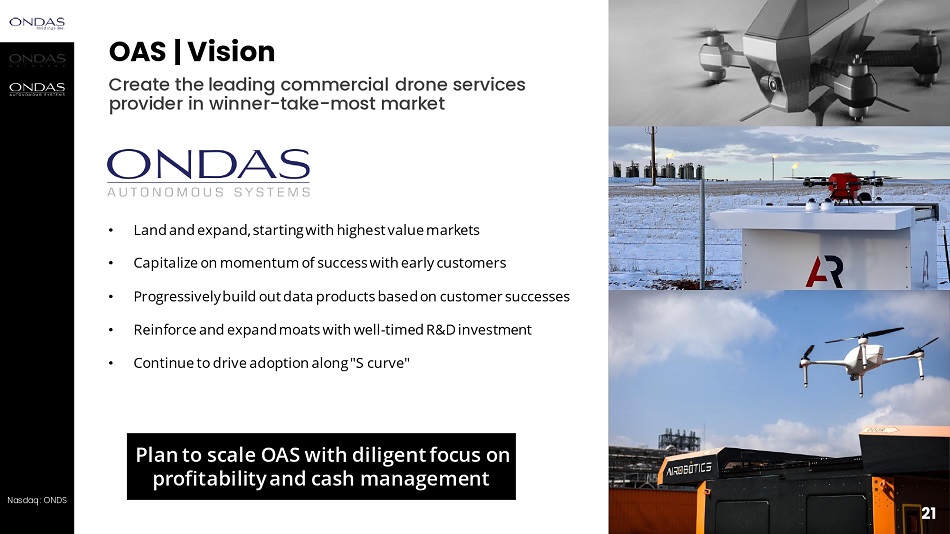 Create the leading commercial drone services provider in winner - take - most market OAS | Vision • Land and expand, starting with highest value markets • Capitalize on momentum of success with early customers • Progressively build out data products based on customer successes • Reinforce and expand moats with well - timed R&D investment • Continue to drive adoption along "S curve" Plan to scale OAS with diligent focus on profitability and cash management 21 Nasdaq : ONDS 21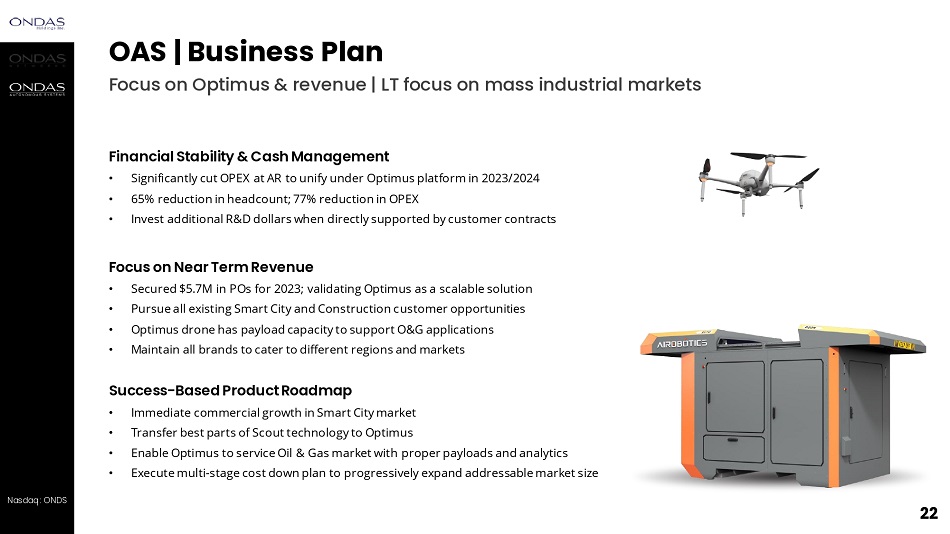 OAS | Business Plan Focus on Optimus & revenue | LT focus on mass industrial markets Financial Stability & Cash Management • Significantly cut OPEX at AR to unify under Optimus platform in 2023/2024 • 65% reduction in headcount; 77% reduction in OPEX • Invest additional R&D dollars when directly supported by customer contracts Focus on Near Term Revenue • Secured $5.7M in POs for 2023; validating Optimus as a scalable solution • Pursue all existing Smart City and Construction customer opportunities • Optimus drone has payload capacity to support O&G applications • Maintain all brands to cater to different regions and markets Success - Based Product Roadmap • Immediate commercial growth in Smart City market • Transfer best parts of Scout technology to Optimus • Enable Optimus to service Oil & Gas market with proper payloads and analytics • Execute multi - stage cost down plan to progressively expand addressable market size Nasdaq : ONDS 22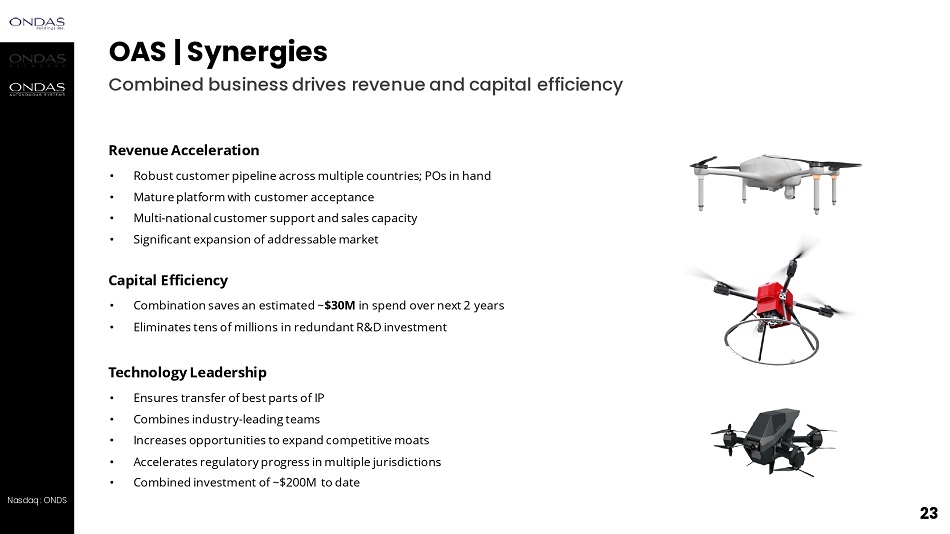 OAS | Synergies Combined business drives revenue and capital efficiency Revenue Acceleration • Robust customer pipeline across multiple countries; POs in hand • Mature platform with customer acceptance • Multi - national customer support and sales capacity • Significant expansion of addressable market Capital Efficiency • Combination saves an estimated ~ $30M in spend over next 2 years • Eliminates tens of millions in redundant R&D investment Technology Leadership • Ensures transfer of best parts of IP • Combines industry - leading teams • Increases opportunities to expand competitive moats • Accelerates regulatory progress in multiple jurisdictions • Combined investment of ~$200M to date Nasdaq : ONDS 23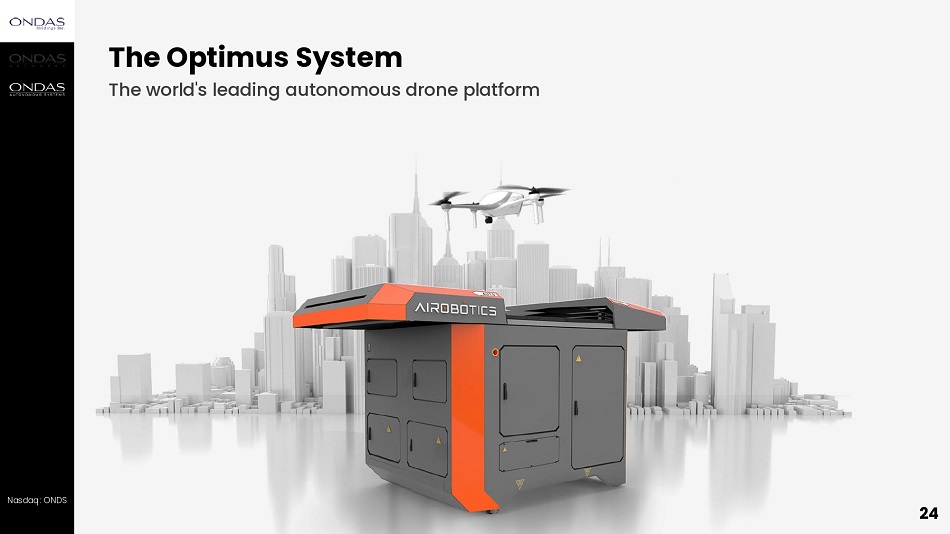 The Optimus System The world's leading autonomous drone platform 24 Nasdaq : ONDS 24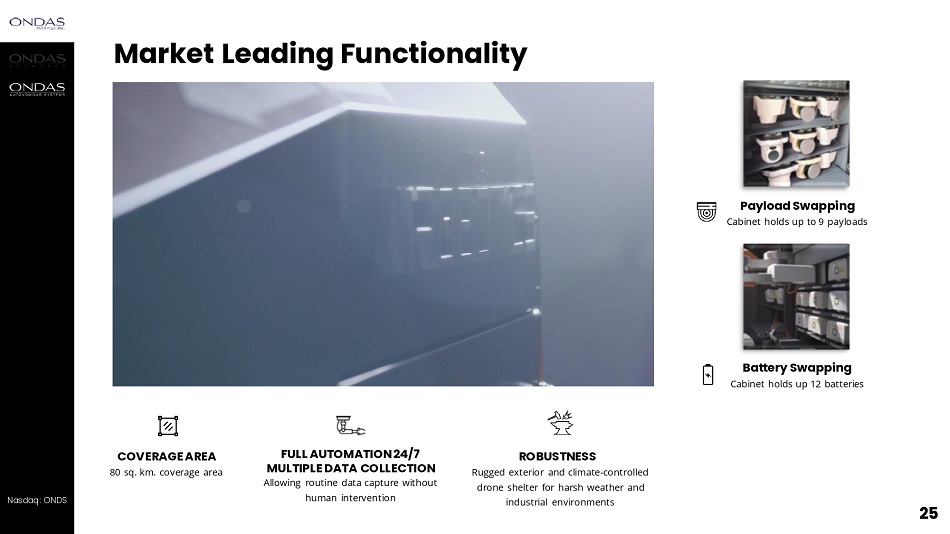 Market Leading Functionality FULL AUTOMATION 24/7 MULTIPLE DATA COLLECTION Allowing routine data capture without ROBUSTNESS Rugged exterior and climate - controlled drone shelter for harsh weather and COVERAGE AREA 80 sq. km. coverage area Payload Swapping Cabinet holds up to 9 payloads Battery Swapping Cabinet holds up 12 batteries human intervention Nasdaq : ONDS industrial environments 25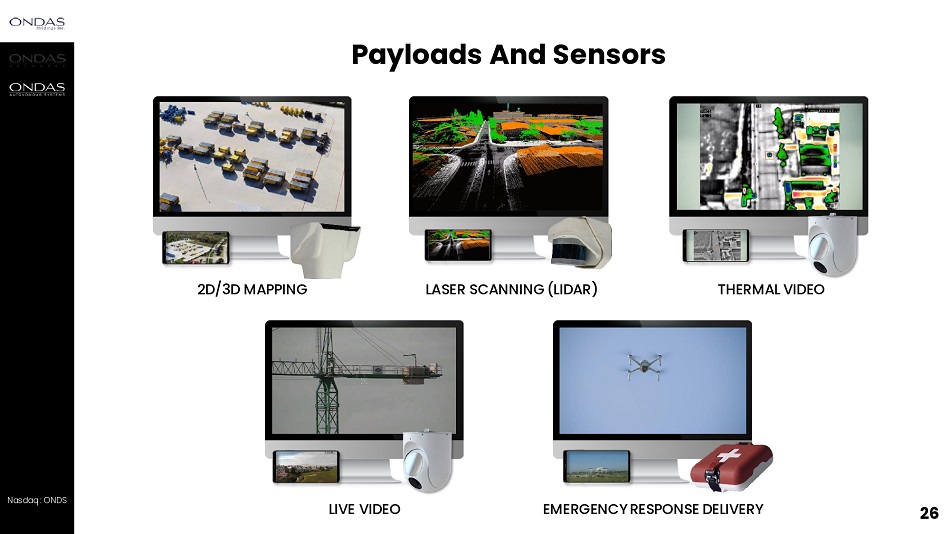 Nasdaq : ONDS 26 2D/3D MAPPING THERMAL VIDEO LASER SCANNING (LIDAR) LIVE VIDEO EMERGENCY RESPONSE DELIVERY Payloads And Sensors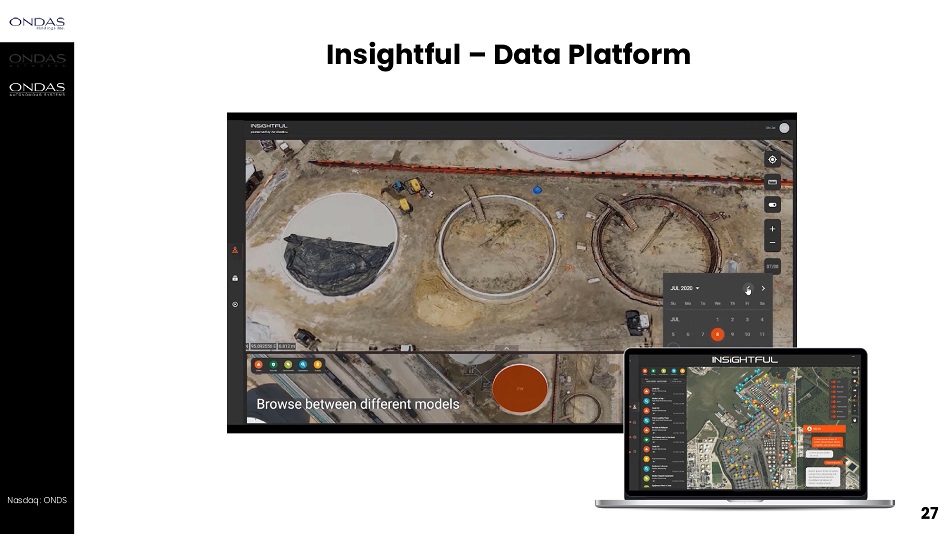 Insightful – Data Platform Nasdaq : ONDS 27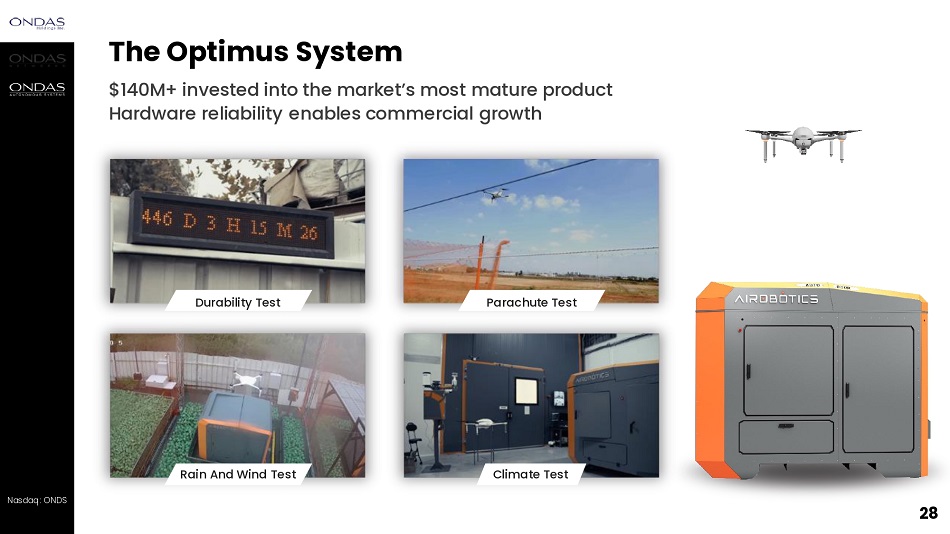 The Optimus System $140M+ invested into the market's most mature product Hardware reliability enables commercial growth Durability Test Parachute Test Rain And Wind Test Climate Test Nasdaq : ONDS 28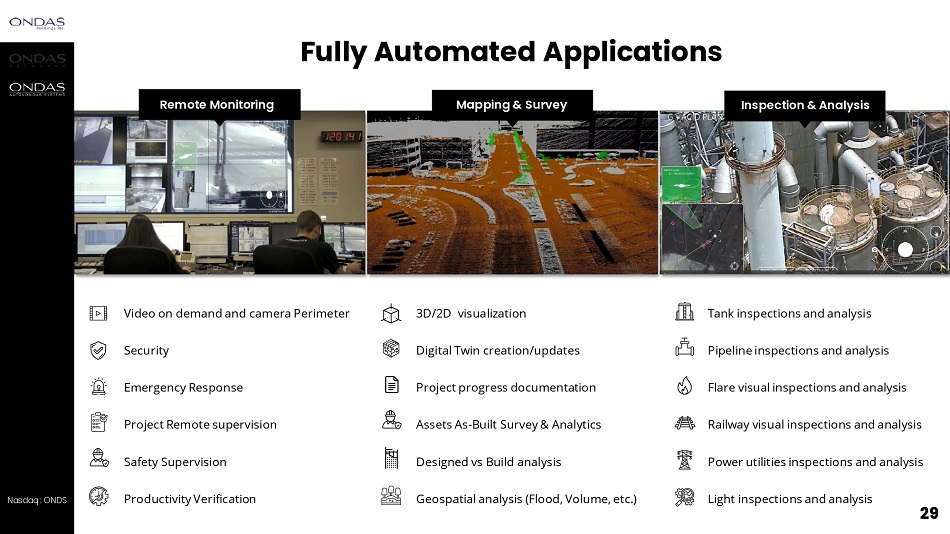 Inspection & Analysis Remote Monitoring Mapping & Survey Video on demand and camera Perimeter 3D/2D visualization Tank inspections and analysis Security Digital Twin creation/updates Pipeline inspections and analysis Emergency Response Project progress documentation Flare visual inspections and analysis Project Remote supervision Assets As - Built Survey & Analytics Railway visual inspections and analysis Safety Supervision Designed vs Build analysis Power utilities inspections and analysis Fully Automated Applications Productivity Verification Geospatial analysis (Flood, Volume, etc.) Light inspections and analysis Nasdaq : ONDS 29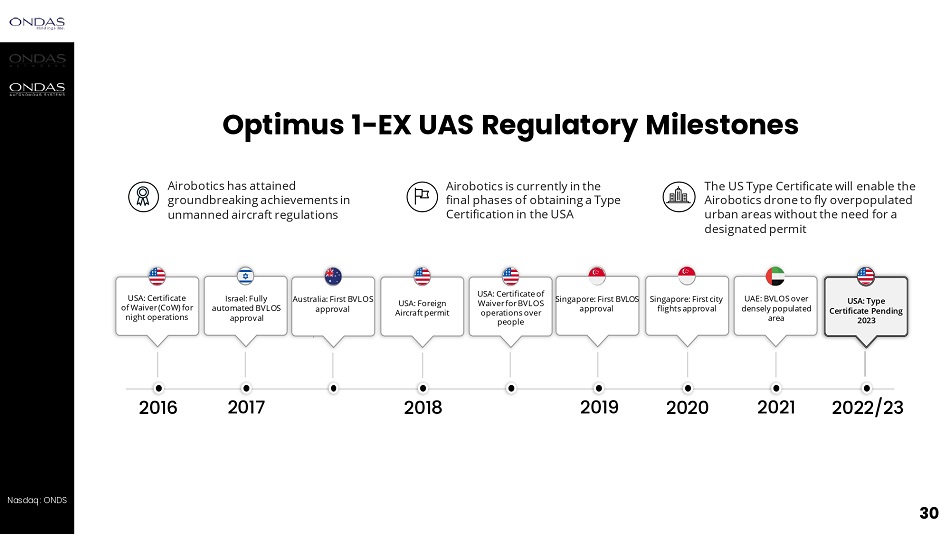 Airobotics has attained groundbreaking achievements in unmanned aircraft regulations Airobotics is currently in the final phases of obtaining a Type Certification in the USA The US Type Certificate will enable the Airobotics drone to fly overpopulated urban areas without the need for a designated permit 2018 USA: Certificate of Waiver (CoW) for night operations Israel: Fully automated BVLOS approval Australia: First BVLOS approval USA: Foreign Aircraft permit 2017 2016 USA: Certificate of Waiver for BVLOS operations over people 2019 Singapore: First BVLOS approval 2020 Singapore: First city flights approval USA: Type Certificate Pending 2023 2021 2022/23 UAE: BVLOS over densely populated area Optimus 1 - EX UAS Regulatory Milestones Nasdaq : ONDS 30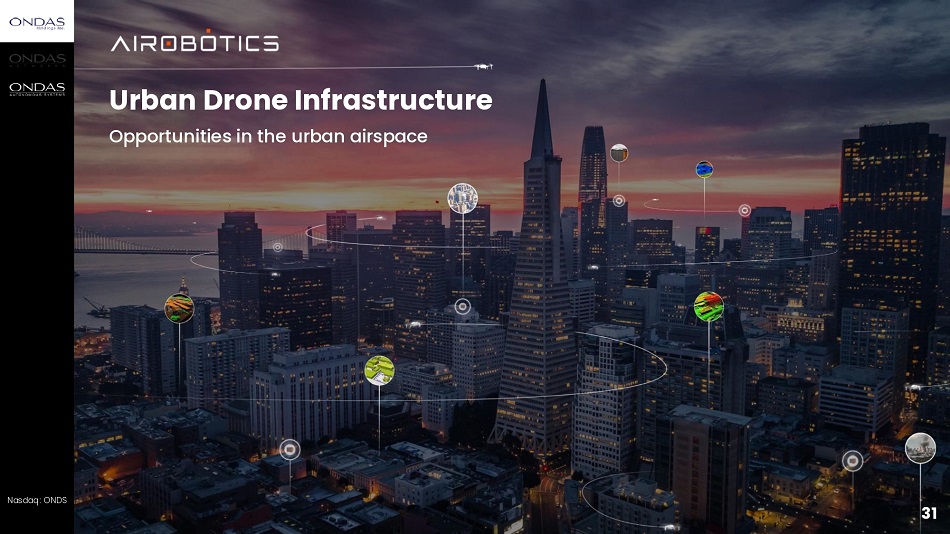 Opportunities in the urban airspace 3 1 31 Nasdaq : ONDS 31 Urban Drone Infrastructure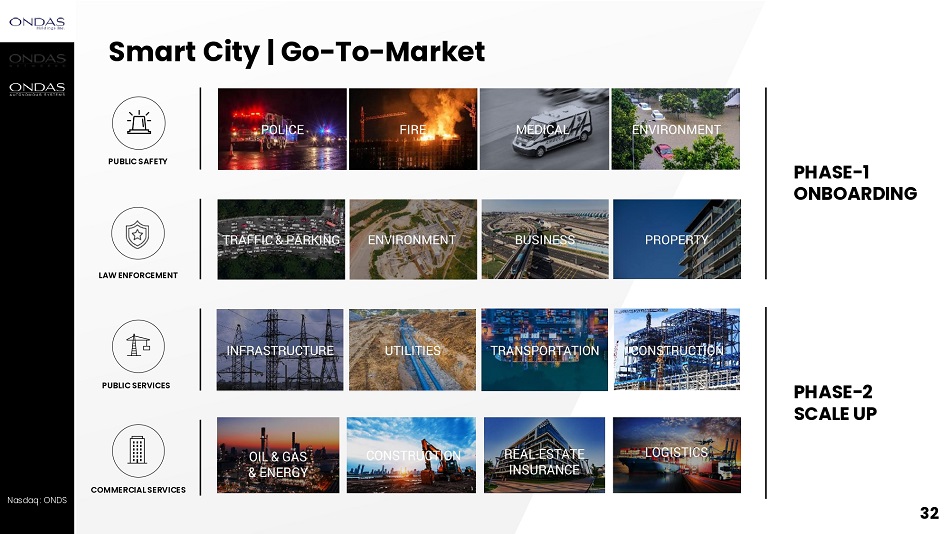 COMMERCIAL SERVICES PUBLIC SERVICES Nasdaq : ONDS 32 LAW ENFORCEMENT PUBLIC SAFETY PHASE - 1 ONBOARDING Smart City | Go - To - Market PHASE - 2 SCALE UP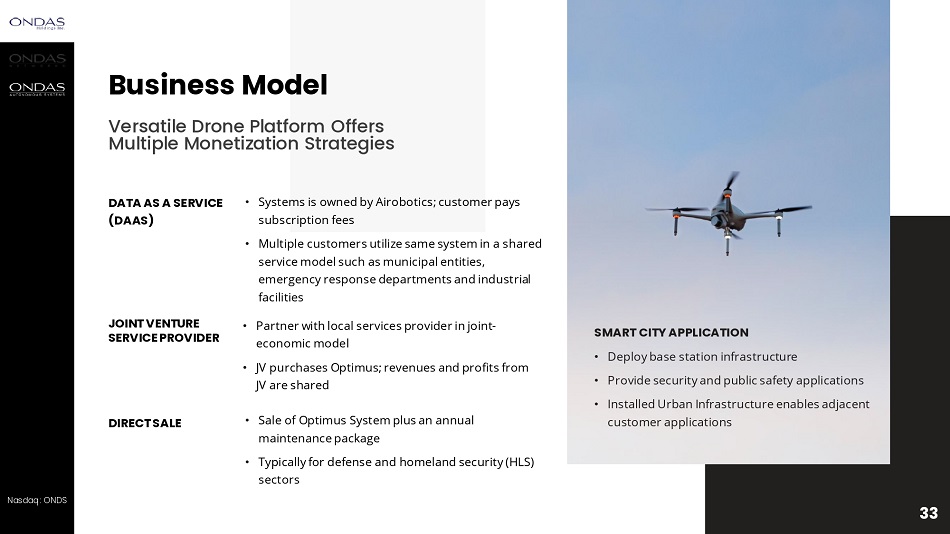 Versatile Drone Platform Offers Multiple Monetization Strategies Business Model DATA AS A SERVICE (DAAS) 33 Nasdaq : ONDS 33 • Sale of Optimus System plus an annual maintenance package • Typically for defense and homeland security (HLS) sectors • Systems is owned by Airobotics; customer pays subscription fees • Multiple customers utilize same system in a shared service model such as municipal entities, emergency response departments and industrial facilities DIRECT SALE SMART CITY APPLICATION • Deploy base station infrastructure • Provide security and public safety applications • Installed Urban Infrastructure enables adjacent customer applications JOINT VENTURE SERVICE PROVIDER • Partner with local services provider in joint - economic model • JV purchases Optimus; revenues and profits from JV are shared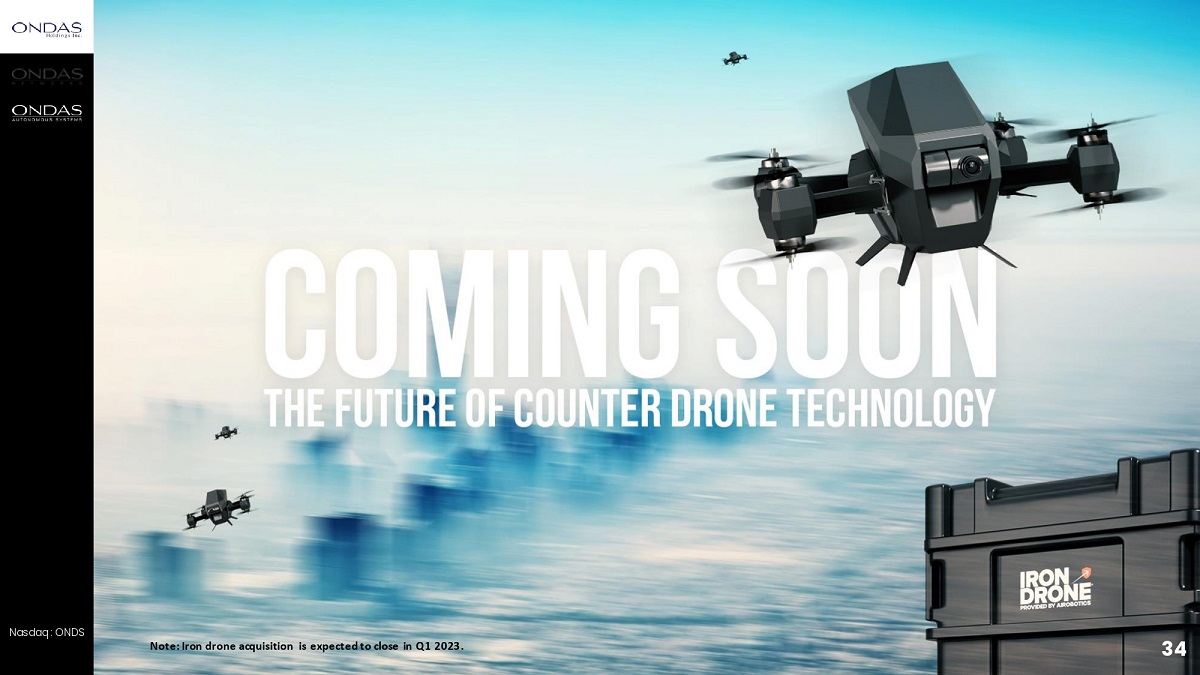 COMING SOON 3 4 34 Nasdaq : ONDS 34 Note: Iron drone acquisition is expected to close in Q1 2023.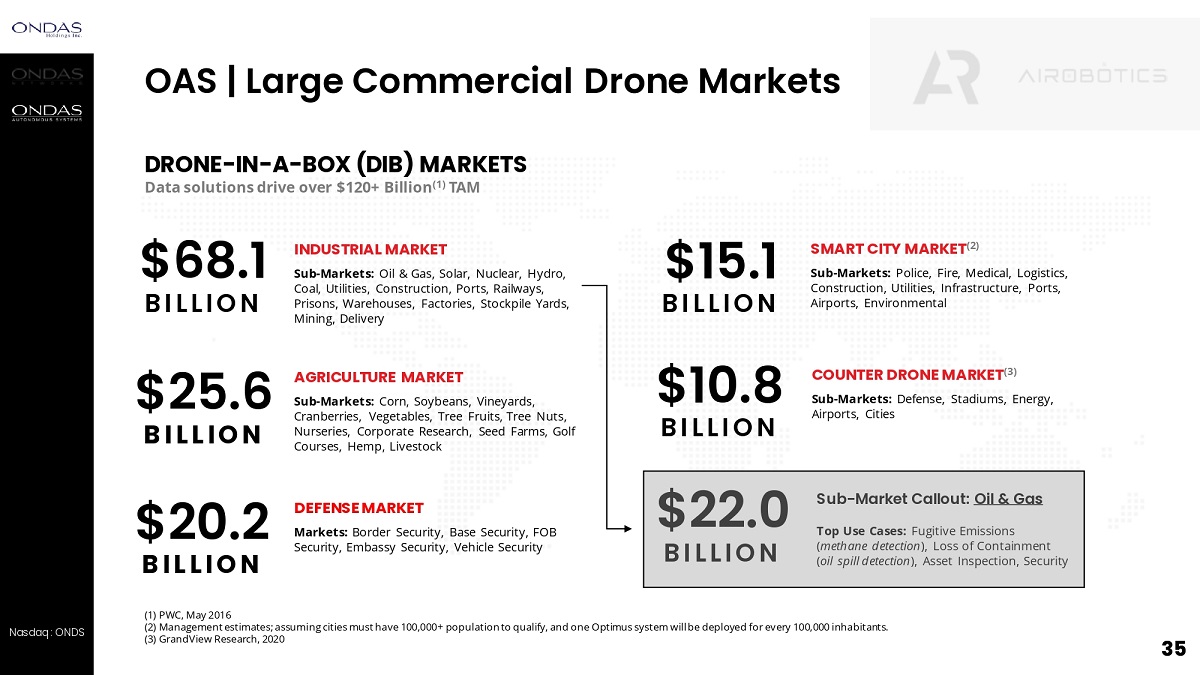 Nasdaq : ONDS 35 OAS | Large Commercial Drone Markets (1) PWC, May 2016 (2) Management estimates; assuming cities must have 100,000+ population to qualify, and one Optimus system will be deployed for every 100,000 inhabitants. (3) GrandView Research, 2020 $68.1 B I L L I O N $25.6 B I L L I O N $20.2 B I L L I O N DRONE - IN - A - BOX (DIB) MARKETS Data solutions drive over $120+ Billion (1) TAM INDUSTRIAL MARKET Sub - Markets: Oil & Gas, Solar, Nuclear, Hydro, Coal, Utilities, Construction, Ports, Railways, Prisons, Warehouses, Factories, Stockpile Yards, Mining, Delivery AGRICULTURE MARKET Sub - Markets: Corn, Soybeans, Vineyards, Cranberries, Vegetables, Tree Fruits, Tree Nuts, Nurseries, Corporate Research, Seed Farms, Golf Courses, Hemp, Livestock DEFENSE MARKET Markets: Border Security, Base Security, FOB Security, Embassy Security, Vehicle Security SMART CITY MARKET (2) Sub - Markets: Police, Fire, Medical, Logistics, Construction, Utilities, Infrastructure, Ports, Airports, Environmental COUNTER DRONE MARKET (3) Sub - Markets: Defense, Stadiums, Energy, Airports, Cities $15.1 B I L L I O N $10.8 B I L L I O N Sub - Market Callout: Oil & Gas Top Use Cases: Fugitive Emissions ( methane detection ), Loss of Containment ( oil spill detection ), Asset Inspection, Security $22.0 B I L L I O N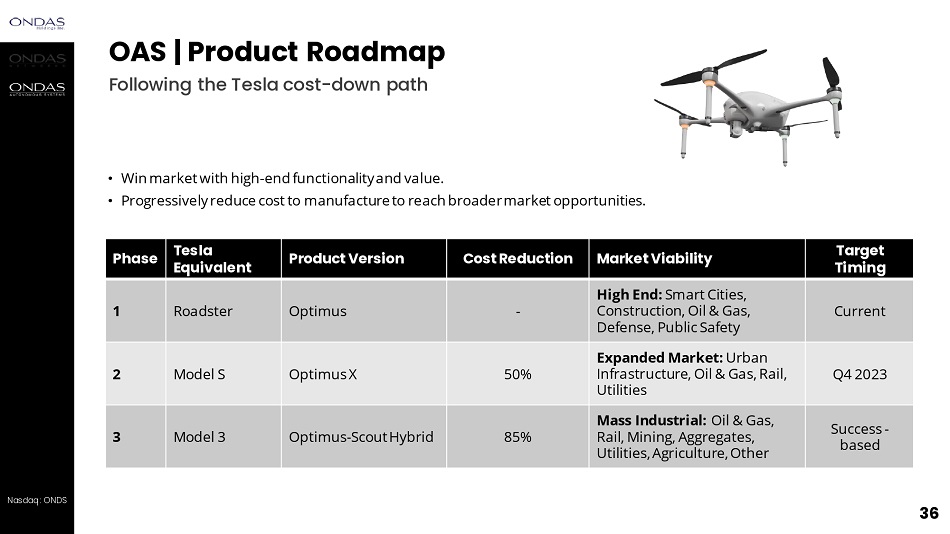 OAS | Product Roadmap Following the Tesla cost - down path • Win market with high - end functionality and value. • Progressively reduce cost to manufacture to reach broader market opportunities. Phase Tesla Equivalent Product Version Cost Reduction Market Viability Target Timing 1 Roadster Optimus - High End : Smart Cities, Construction, Oil & Gas, Defense, Public Safety Current 2 Model S Optimus X 50% Expanded Market: Urban Infrastructure, Oil & Gas, Rail, Utilities Q4 2023 3 Model 3 Optimus - Scout Hybrid 85% Mass Industrial: Oil & Gas, Rail, Mining, Aggregates, Utilities, Agriculture, Other Success - based Nasdaq : ONDS 36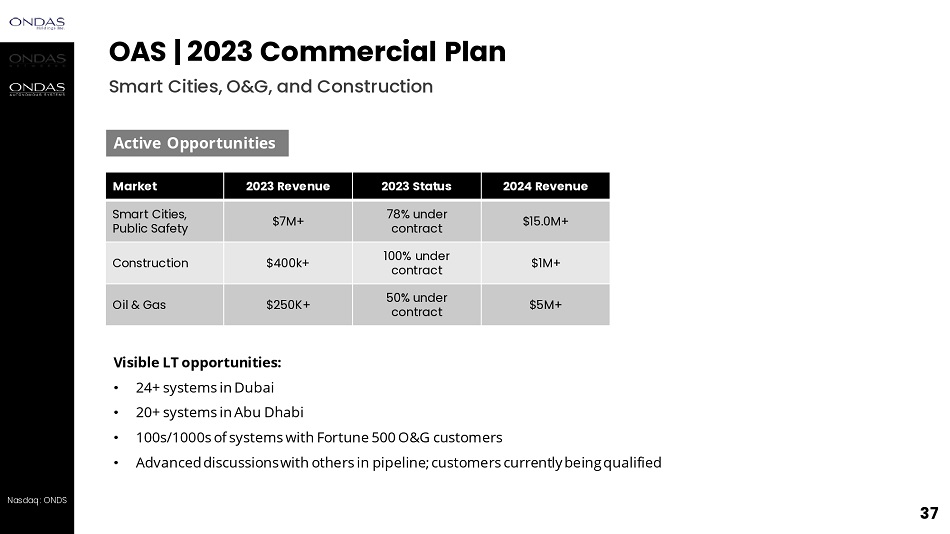 Market 2023 Revenue 2023 Status 2024 Revenue Smart Cities, Public Safety $7M+ 78% under contract $15.0M+ Construction $400k+ 100% under contract $1M+ Oil & Gas $250K+ 50% under contract $5M+ Nasdaq : ONDS 37 OAS | 2023 Commercial Plan Active Opportunities Visible LT opportunities: • 24+ systems in Dubai • 20+ systems in Abu Dhabi • 100s/1000s of systems with Fortune 500 O&G customers • Advanced discussions with others in pipeline; customers currently being qualified Smart Cities, O&G, and Construction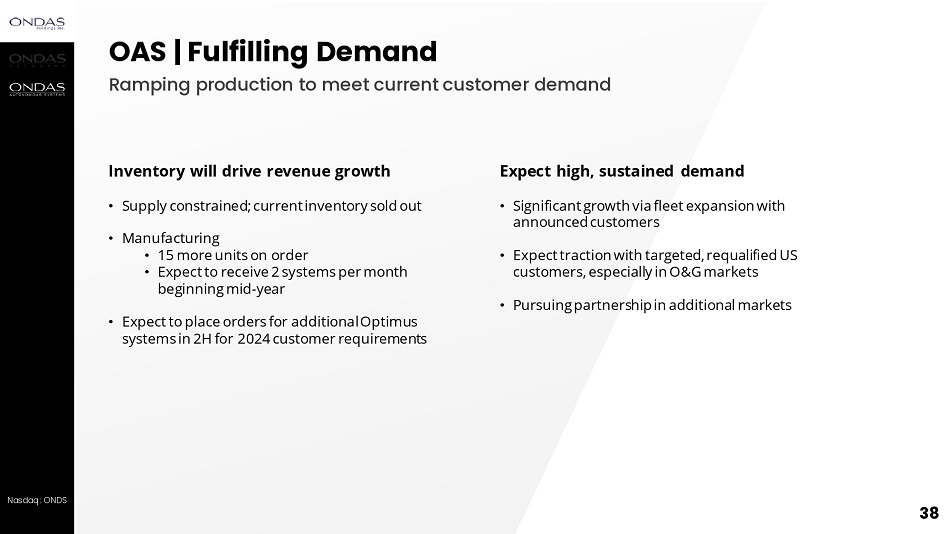 OAS | Fulfilling Demand Ramping production to meet current customer demand Nasdaq : ONDS 38 Inventory will drive revenue growth • Supply constrained; current inventory sold out • Manufacturing • 15 more units on order • Expect to receive 2 systems per month beginning mid - year • Expect to place orders for additional Optimus systems in 2H for 2024 customer requirements Expect high, sustained demand • Significant growth via fleet expansion with announced customers • Expect traction with targeted, requalified US customers, especially in O&G markets • Pursuing partnership in additional markets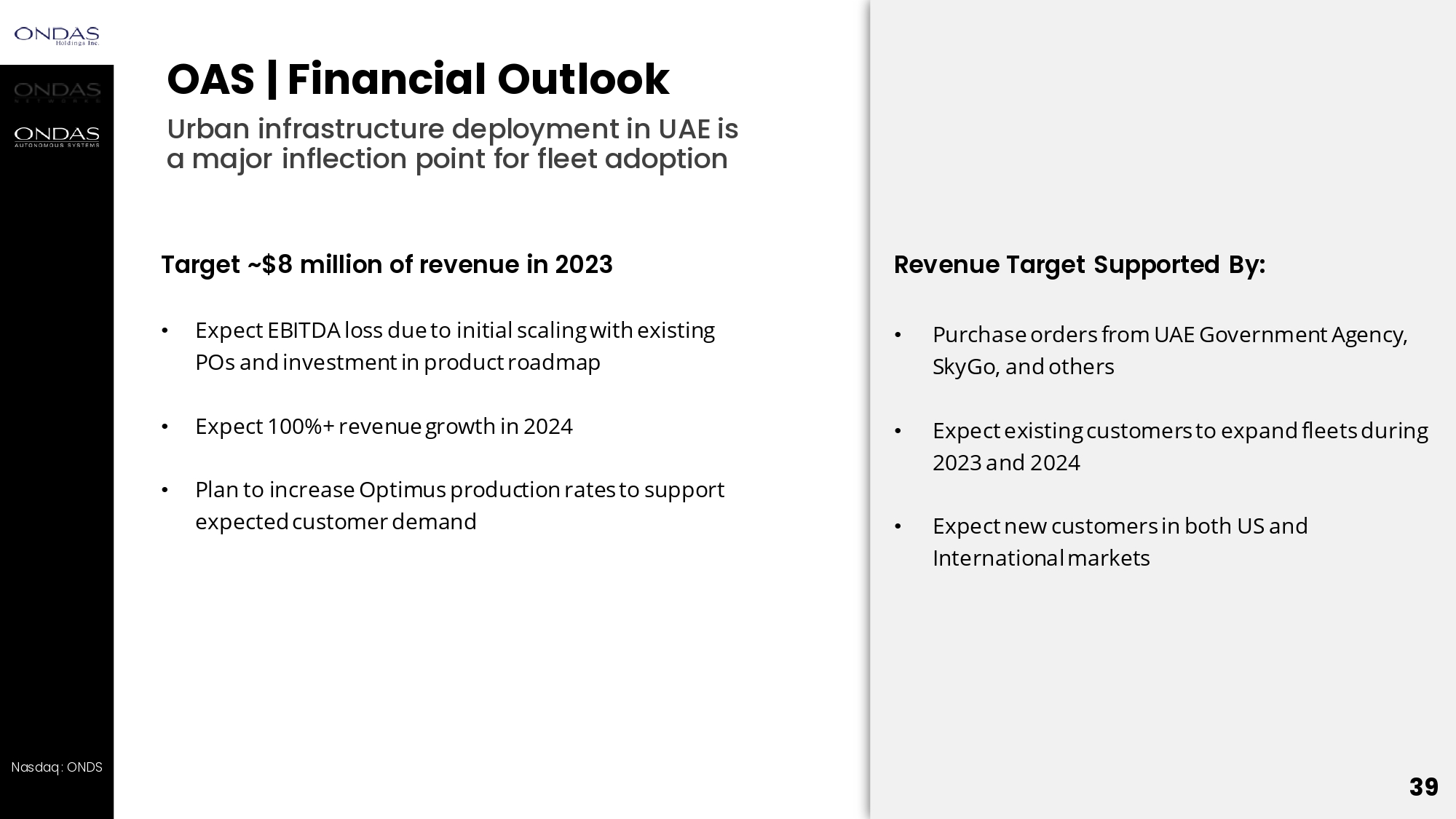 OAS | Financial Outlook Target ~$8 million of revenue in 2023 • Expect EBITDA loss due to initial scaling with existing POs and investment in product roadmap • Expect 100%+ revenue growth in 2024 • Plan to increase Optimus production rates to support expected customer demand Urban infrastructure deployment in UAE is a major inflection point for fleet adoption Revenue Target Supported By: • Purchase orders from UAE Government Agency, SkyGo, and others • Expect existing customers to expand fleets during 2023 and 2024 • Expect new customers in both US and International markets 39 Nasdaq : ONDS 39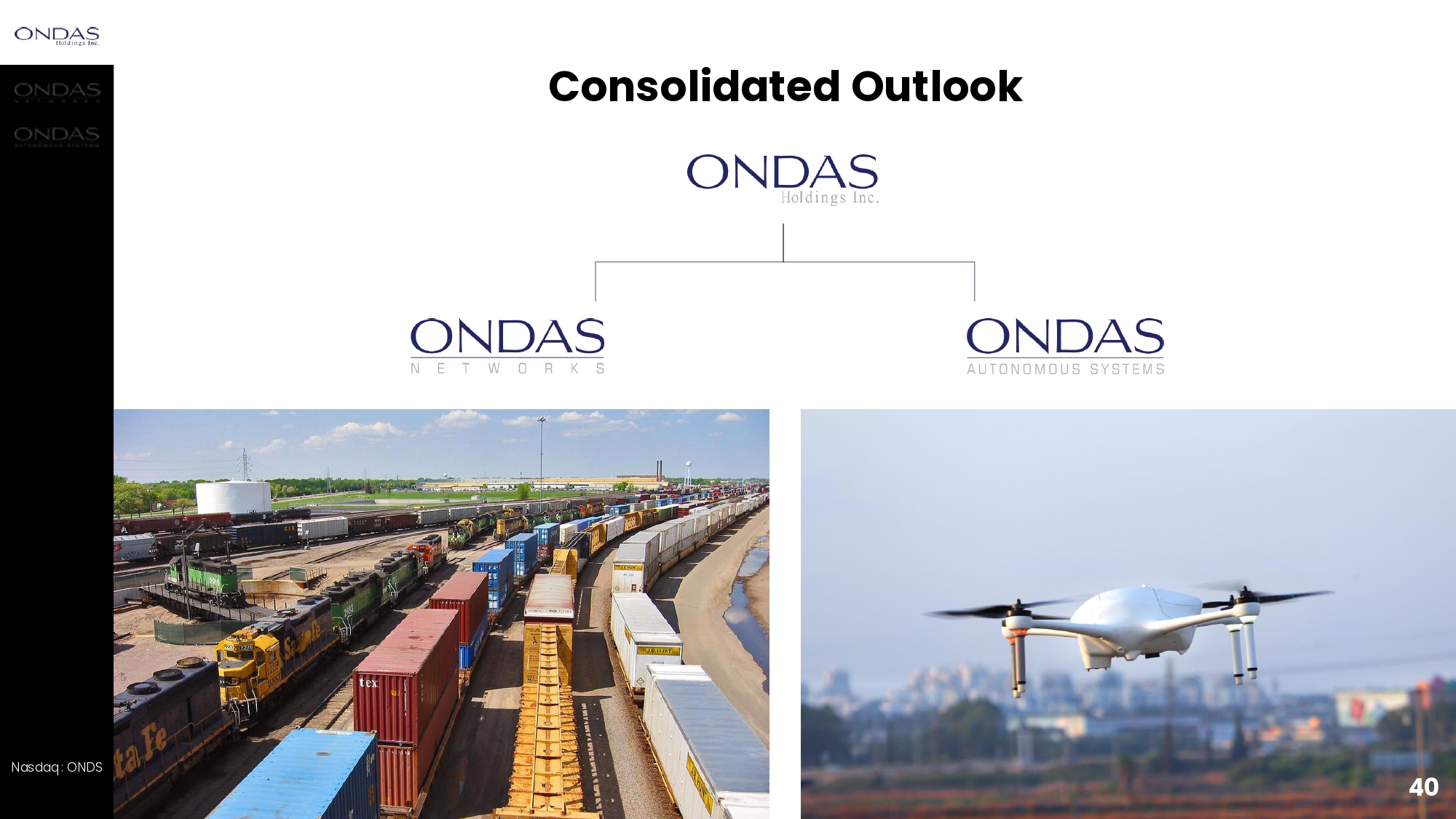 Consolidated Outlook 39 Nasdaq : ONDS 40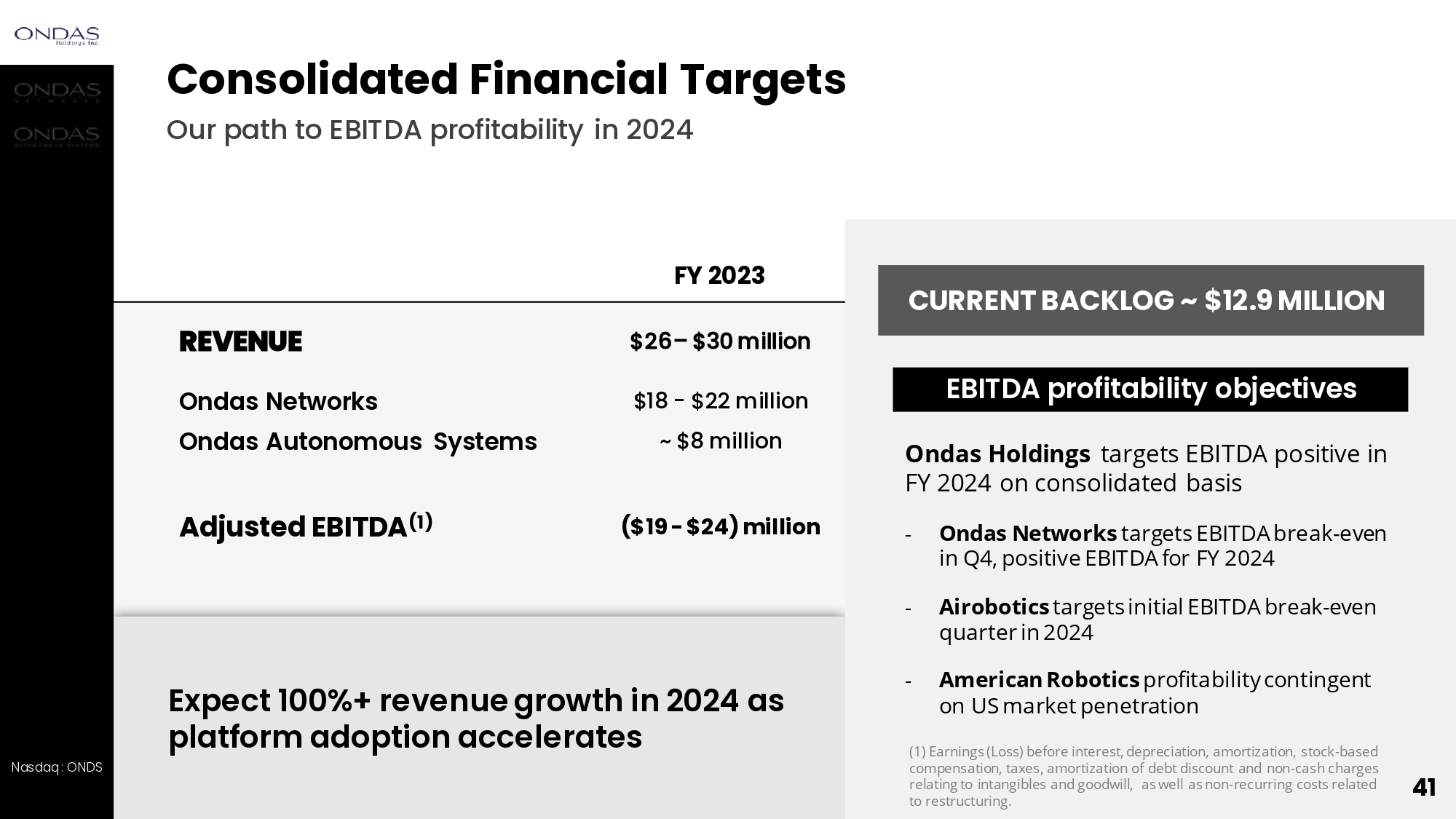 Nasdaq : ONDS 41 Expect 100%+ revenue growth in 2024 as platform adoption accelerates FY 2023 $26 – $30 million REVENUE Ondas Networks Ondas Autonomous Systems $18 - $22 million ~ $8 million Adjusted EBITDA (1) ($19 - $24) million Consolidated Financial Targets Our path to EBITDA profitability in 2024 EBITDA profitability objectives CURRENT BACKLOG ~ $12.9 MILLION Ondas Holdings targets EBITDA positive in FY 2024 on consolidated basis - Ondas Networks targets EBITDA break - even in Q4, positive EBITDA for FY 2024 - Airobotics targets initial EBITDA break - even quarter in 2024 - American Robotics profitability contingent on US market penetration ( 1 ) Earnings (Loss) before interest, depreciation, amortization, stock - based compensation, taxes, amortization of debt discount and non - cash charges relating to intangibles and goodwill, as well as non - recurring costs related to restructuring . 41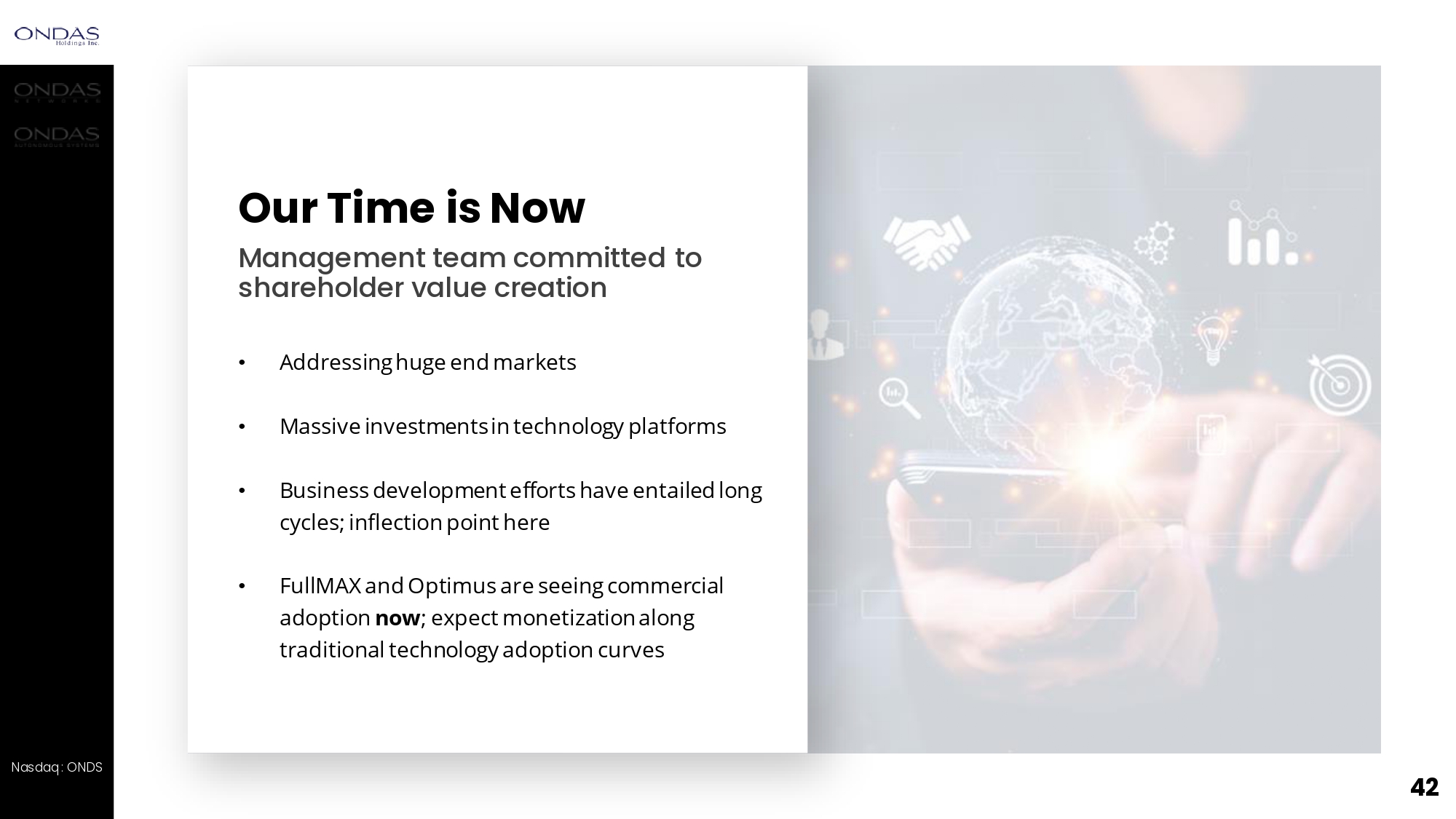 Nasdaq : ONDS 42 Our Time is Now Management team committed to shareholder value creation • Addressing huge end markets • Massive investments in technology platforms • Business development efforts have entailed long cycles; inflection point here • FullMAX and Optimus are seeing commercial adoption now ; expect monetization along traditional technology adoption curves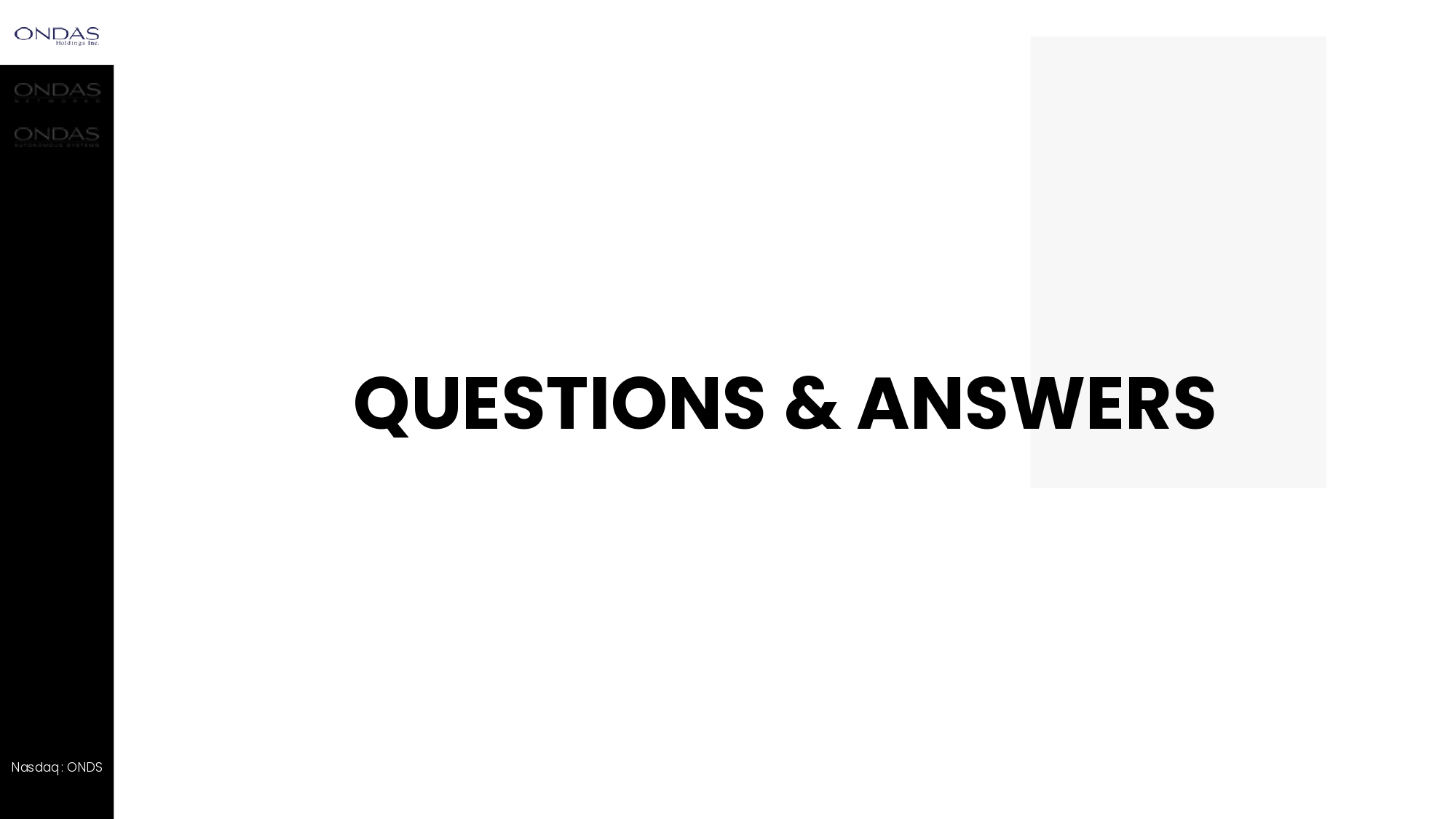 Nasdaq : ONDS 43 QUESTIONS & ANSWERS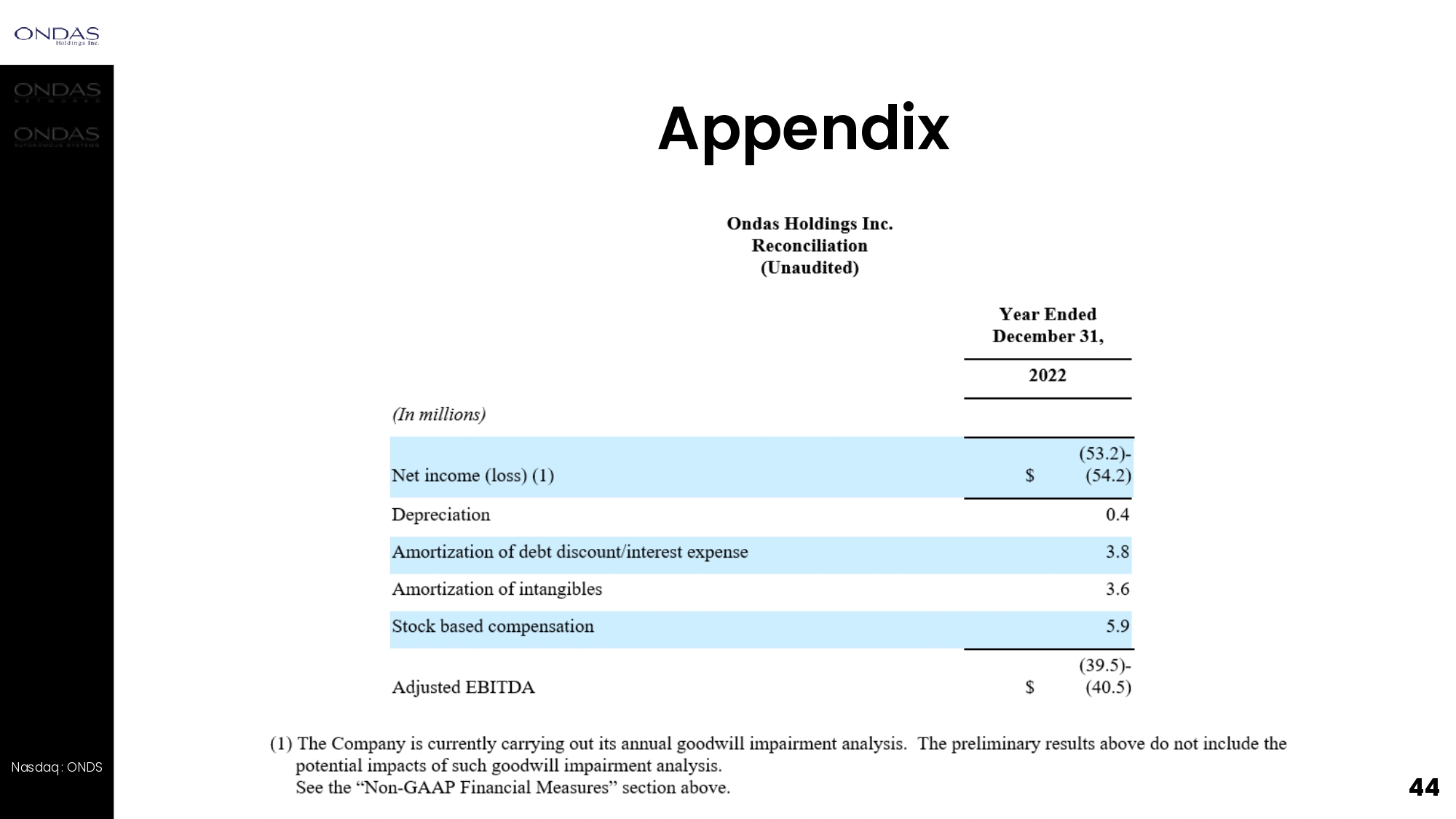 Nasdaq : ONDS Appendix 44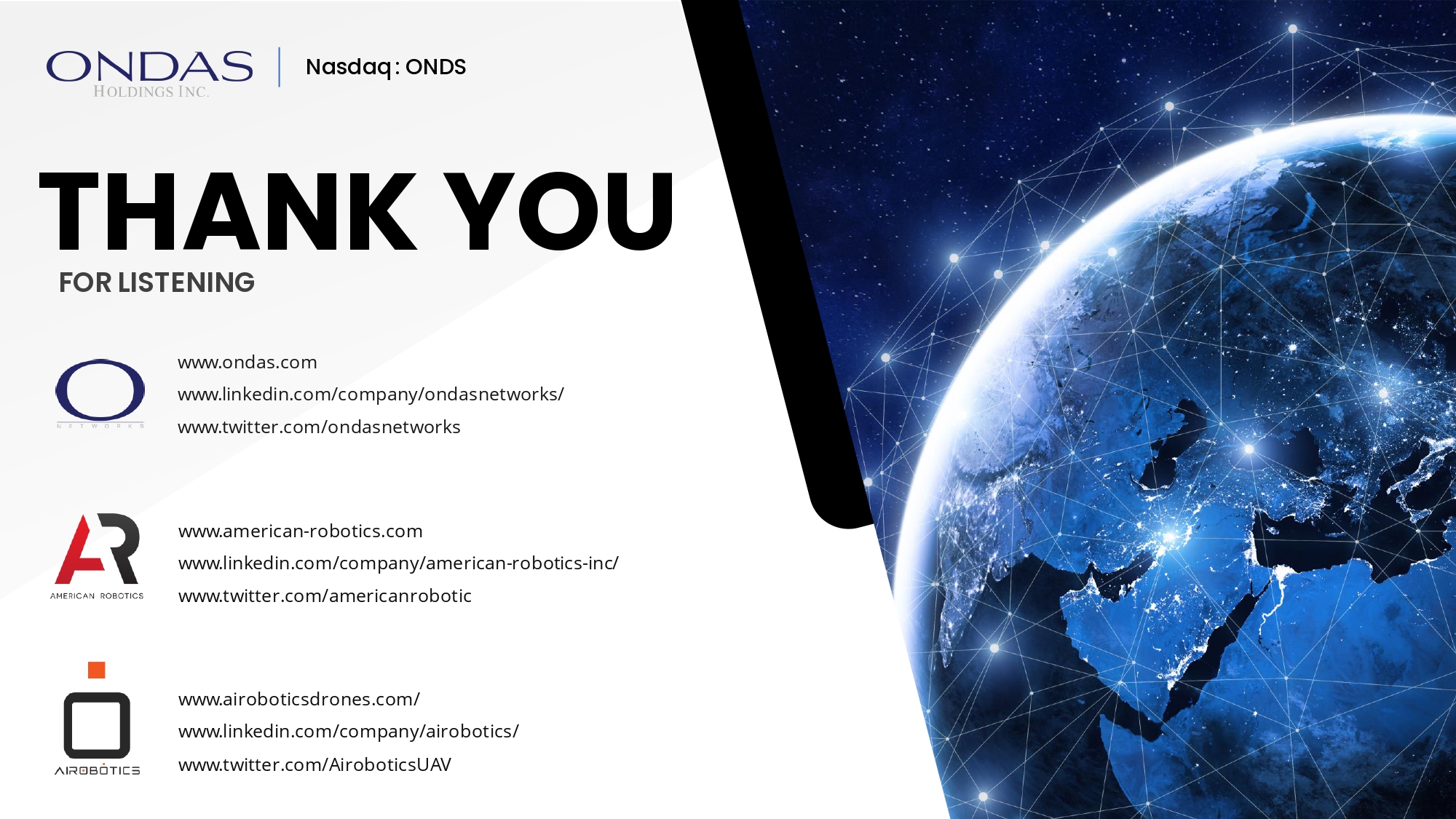 THANK YOU FOR LISTENING www.ondas.com www.linkedin.com/company/ondasnetworks/ www.twitter.com/ondasnetworks www.american - robotics.com www.linkedin.com/company/american - robotics - inc/ www.twitter.com/americanrobotic Nasdaq : ONDS www.airoboticsdrones.com/ www.linkedin.com/company/airobotics/ www.twitter.com/AiroboticsUAV